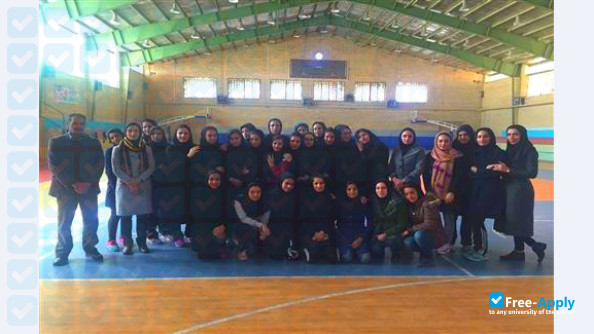 A popular university
Communication with native speakers
International exchange programs
Although based on archaeological findings, especially considering the establishment of ancient hills of millennia before the birth of Christ, within the city can be as old as millennia the deployment of human and Initialize civilization, for it to be, but the old name Kord (Deh Kord) of the Zand period onwards seen in the literature. According to the documents existing cultural Imam Sadegh Mosque, known as "mosque Atabakan" Under the rule of Atabakan Gulf was created because of its location at the heart of the old quarter, with the two holy shrines Halima and Hakima Khatun (R) Place the old Temple Branch, mills, factories, oil extraction and traditional markets have become more prominent this place was known then
Education programs
Agriculture

Persian (Farsi)

Language of instructions

$2,496

Fee for international students

$2,496

Fee for domestic students
Persian (Farsi)

Language of instructions

$2,496

Fee for international students

$2,496

Fee for domestic students
Persian (Farsi)

Language of instructions

$2,496

Fee for international students

$2,496

Fee for domestic students
Persian (Farsi)

Language of instructions

$2,496

Fee for international students

$2,496

Fee for domestic students
Persian (Farsi)

Language of instructions

$2,496

Fee for international students

$2,496

Fee for domestic students
Persian (Farsi)

Language of instructions

$2,496

Fee for international students

$2,496

Fee for domestic students
Persian (Farsi)

Language of instructions

$2,496

Fee for international students

$2,496

Fee for domestic students
How to apply to the university
Complete admissions tasks
To apply to Islamic Azad University of Shahrekord follow these steps. To get more information about the university and the admissions process, you can use the live chat to contact a university representative.
Required documents for admission
When applying for admission to Islamic Azad University of Shahrekord in Iran you should prepare all required documents. Request a list of necessary documents directly from a university, as it may vary for different countries. Using our live chat, you can also ask for sample documents.
Passport

IELTS Certificate

TOEFL Certificate

Online Application form
Why people choose this university
A popular university
Communication with native speakers
International exchange programs
Contacts
Islamic Azad University of Shahrekord
Shehre-Kord, Cheharmehal and Bakhtiari, Iran
Shahr-e Kord
Iran

Free Apply is not responsible for the content of this page. Through the Site, Free Apply provides an online catalog which you can use to find different types of educational institutions. It's possible for a new university to be registered by any user, however only verified university representatives will be able to manage, reply in chat and make changes to a university page. Once the University registers its official representative, it has the right to block access for others to edit the information. Further control over the content will be carried out by the representative of the University. Registration with the Free-Apply.com catalog is free.
Other Universities on Free-Apply.com