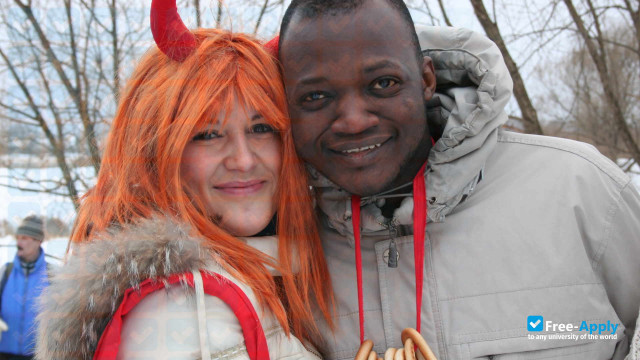 International recognition
International education standards
Professional teaching staff
6 more benefits
Tambov State University named after G. R. Derzhavin Founded in 1918/13 000 students from 62 countries/790 professors/162 study programs/WHO/WDOMS approved Tambov State University is renowned as a bearer of rich academic traditions and ranks among major universities of Central Russia. The university trains future professionals for the international labor market in Medicine, Engineering, Economic and Humanities. The university has partnerships with 160 international universities, research centers and NGOs from 42 countries. The University launches international projects, participates in international programs in education and science, supports undergraduate and PhD students in undertaking traineeships abroad and partakes in student exchange agreements. Acquisition of theoretical knowledge is combined with practical activities. Students at the faculty of journalism have their own newspaper and university TV where they may hone and develop their skills.Innovative forms of studies are implemented on a large scale and students have the opportunity to work on various projects in Medicine, IT and social spheres in 14 small enterprises working within the framework of the university. Medical Faculty • Recognized by WHO/WDOMS • Full immersion clinical practice in city hospitals • Practical classes at Medical Simulator Center - one of the most advanced centers in Russia, owing to its equipment and organization • Modern training phantoms and simulators, computer equipment with innovative training software. The university has comfortable university hostels with rooms for 2-3 persons. Every hostel has well equipped kitchens, bathrooms, laundries, study rooms and free Internet access, sports hall, recreation area. The benevolent atmosphere and the feeling of university family help foreign students maintain a positive attitude. Tambov city is located in the heart of the European part of Russia. The city's architecture is characterized by combination of old and modern buildings, quiet squares and lively streets. A considerable number of museums, galleries and theaters make cultural life truly rich. The region's moderate-continental climate accounts for warm summers and relatively mild winters. Over 60 active student unions: musical and dance theaters, brass bands and orchestras, historical reconstruction club, stand-up comedy competitions. Wide choice of sports activities: physical training facility and a fitness-center, a large sports complex "Antei", 2 swimming pools, gyms and playgrounds, an open football field with artificial turf which is transformed into ice skating rink in winter, etc
Education programs
Administration

Russian

Language of instructions

$3,000

Fee for international students

$3,000

Fee for domestic students
Russian

Language of instructions

$3,000

Fee for international students

$3,000

Fee for domestic students
Russian

Language of instructions

$3,000

Fee for international students

$3,000

Fee for domestic students
Russian

Language of instructions

$3,000

Fee for international students

$3,000

Fee for domestic students
French

Language of instructions

$4,000

Fee for international students

$4,000

Fee for domestic students
Russian

Language of instructions

$3,000

Fee for international students

$3,000

Fee for domestic students
Russian

Language of instructions

$3,000

Fee for international students

$3,000

Fee for domestic students
Russian

Language of instructions

$3,000

Fee for international students

$3,000

Fee for domestic students

Russian

Language of instructions

$2,800

Fee for international students

$2,800

Fee for domestic students
Russian

Language of instructions

$3,000

Fee for international students

$3,000

Fee for domestic students
Russian

Language of instructions

$3,000

Fee for international students

$3,000

Fee for domestic students
Russian

Language of instructions

$3,000

Fee for international students

$3,000

Fee for domestic students
Russian

Language of instructions

$3,000

Fee for international students

$3,000

Fee for domestic students
Russian

Language of instructions

$3,000

Fee for international students

$3,000

Fee for domestic students
Russian

Language of instructions

$3,200

Fee for international students

$3,200

Fee for domestic students

English

Language of instructions

$4,000

Fee for international students

$4,000

Fee for domestic students

French

Language of instructions

$4,000

Fee for international students

$4,000

Fee for domestic students
Russian

Language of instructions

$3,000

Fee for international students

$3,000

Fee for domestic students
Russian

Language of instructions

$3,000

Fee for international students

$3,000

Fee for domestic students
Russian

Language of instructions

$3,000

Fee for international students

$3,000

Fee for domestic students
Russian

Language of instructions

$3,000

Fee for international students

$3,000

Fee for domestic students
International students friendly
Students from all continents are currently studying at TSU. TSU has 13000 students , including 3000 international students from 62 countries came to this university because of high quality education in Russia. Tambov State University launches international projects, participates in international programs in education and science, supports undergraduate and PhD students in undertaking traineeships abroad and partakes in student exchange agreements.
Student visa
Once the Admission Letter is issued, the Department for Migration begins the formalization of the Invitation for studies which is the main document for obtaining Russian study visa. It takes from 35 to 45 days. Upon the receipt of the Invitation Letter you submit your documents to the Consular Section of the Russian Embassy in your country. The average study visa fee is 60 USD. The average term for issuing study visa is 7 - 14 days.
Accommodation
The University offers very comfortable living conditions. Students are accommodated in a modern building with convenient rooms for 2-3 persons and public areas. Every hostel has well equipped kitchens, bathrooms, laundries, study rooms and free Internet access, sports hall, recreation areas.
How to apply to the university
Complete admissions tasks
To apply to Tambov State University follow these steps. To get more information about the university and the admissions process, you can use the live chat to contact a university representative.
Required documents for admission
When applying for admission to Tambov State University in Russia you should prepare all required documents. Request a list of necessary documents directly from a university, as it may vary for different countries. Using our live chat, you can also ask for sample documents.
Why people choose this university
International recognition
International education standards
Professional teaching staff
Programs include practical training
Modern campus
A large number of foreign students
Many years of training experience
A popular university
Attractive tuition fees
Contacts
Tambov State University
International Street, 33
Tambov 392036
Russia

Free Apply is not responsible for the content of this page. Through the Site, Free Apply provides an online catalog which you can use to find different types of educational institutions. It's possible for a new university to be registered by any user, however only verified university representatives will be able to manage, reply in chat and make changes to a university page. Once the University registers its official representative, it has the right to block access for others to edit the information. Further control over the content will be carried out by the representative of the University. Registration with the Free-Apply.com catalog is free.
Other Universities on Free-Apply.com