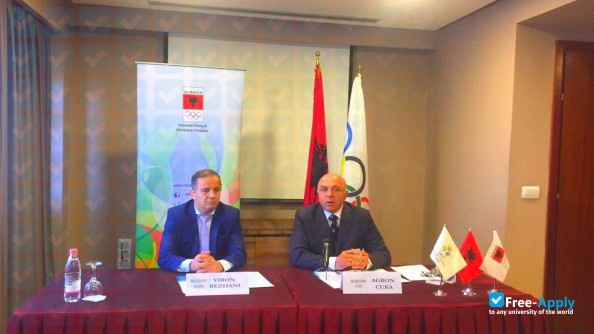 Programs include practical training
Attractive tuition fees
Specialized university
Sports University of Tirana is the only higher institution of its kind in the Republic of Albania in view of the preparation of physical education teachers and sports specialists. University realizes full scientific qualification of specialists of physical education and sports, up to the level "Master" and "Doctor of Science". The genesis of Tirana University of Sports began setting up of fitness Teknikumi in 1948 as the first high school to prepare future teachers of physical education. After 10 years, in 1958, after the creation of the University of Tirana, established at the Faculty of PE branch 2nd year History - Philology. Later this branch went to college with destination "Physical Education Teacher" for low and middle schools. In 1960 the Council of Ministers Decision no. 394, dated 28/09/1960, established the PE Institute who a year later, but by a decision of the Council of Ministers named "Vojo Kushi" with a 3-year study period, equivalent to a university system of higher education. In 1971, was the decision of the Council of Ministers, the designation changes to the Higher Institute of Physical Education "Vojo Kushi" In 1993 deadline studies in this institution become 4 years old. On 25.05.2000, the Decision of the Council of Ministers no. 266, this institution is named Academy of Physical Education and Sport "Vojo Kushi". By decision of the Council of Ministers no. 123 dated 17.02.2010, the institution named University Sports Tirana (UST). From 1958 until today, the University of Sports in Tirana (former ILKF later SPORTS 'Vojo Kushi') as a unique institution in our country has systematically graduated Teachers, Trainers and Senior Specialists of Physical Education Field and Sport .
Education programs
Sports

Albanian

Language of instructions

$655

Fee for international students

$655

Fee for domestic students
How to apply to the university
Complete admissions tasks
To apply to Sports University of Tirana follow these steps. To get more information about the university and the admissions process, you can use the live chat to contact a university representative.
Required documents for admission
When applying for admission to Sports University of Tirana in Albania you should prepare all required documents. Request a list of necessary documents directly from a university, as it may vary for different countries. Using our live chat, you can also ask for sample documents.
Proof of fee payment

Letters of reccomendation (MA, PhD)

Research proposal outline (MA, PhD)

TOEFL Certificate

Health and Life Insurance

Resume/CV (graduate, postgraduate)

Student visa

Passport

Online Application form
Why people choose this university
Programs include practical training
Attractive tuition fees
Specialized university
Contacts
Sports University of Tirana
Tiranë, Rr. Muhamet Gjollesha, 1001
Tirana
Albania

Free Apply is not responsible for the content of this page. Through the Site, Free Apply provides an online catalog which you can use to find different types of educational institutions. It's possible for a new university to be registered by any user, however only verified university representatives will be able to manage, reply in chat and make changes to a university page. Once the University registers its official representative, it has the right to block access for others to edit the information. Further control over the content will be carried out by the representative of the University. Registration with the Free-Apply.com catalog is free.
Other Universities on Free-Apply.com