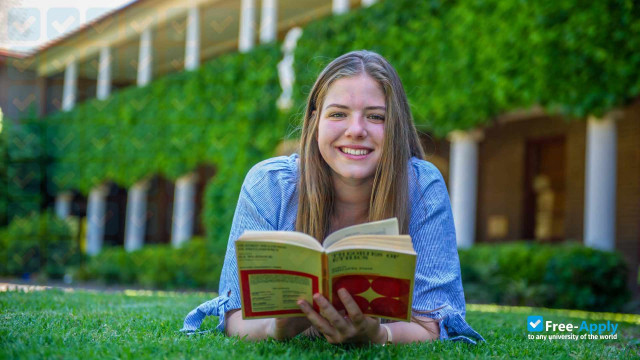 Professional teaching staff
High-quality education
Specialized university
5 more benefits
Campion College is Australia's first liberal arts college educating students in history, literature, philosophy, theology and classical languages. Our classes teach students how to interpret texts, articulate arguments, communicate effectively and think critically, skills essential to any career. We offer a three-year Bachelor of Arts in Liberal Arts and a one-year Diploma of Liberal Arts. Our curriculum is a comprehensive study of Western Civilisation – something that is increasingly politicised in universities. A 2017 report by the Institute of Public Affairs titled 'The Rise of Identity Politics' found that just three universities in Australia offer courses which cover all the essential topics of the history of Western Civilisation, with Campion College the standout institution. We are a private Catholic institution, fully accredited through the Tertiary Education Quality and Standards Agency (TEQSA). 90% of our teaching staff have a PhD in their field and our small class sizes provide the ideal environment for students of all abilities to thrive. We also have a lively, close-knit and faith-filled college community with numerous social, sporting and chaplaincy societies/activities to aid personal development and faith enrichment. Campion College is located in Western Sydney. The campus is conveniently adjacent to public transport routes and major freeways. The historic city of Parramatta is nearby, offering an array of services as well as cultural and entertainment opportunities. We are ideally located at the midpoint between the city of Sydney and the Blue Mountains. The campus comprises 10 acres of wooded land, surrounded by a residential estate but sufficiently detached and tranquil for the purpose of nurturing a Catholic spiritual and intellectual life.
Education programs
Arts

English

Language of instructions

$1,995

Fee for international students

$1,995

Fee for domestic students
English

Language of instructions

$1,995

Fee for international students

$1,995

Fee for domestic students
English

Language of instructions

$1,995

Fee for international students

$1,995

Fee for domestic students
English

Language of instructions

$1,995

Fee for international students

$1,995

Fee for domestic students
Accommodation
All accommodation facilities are on-site, located within the grounds of the college. There are two wings of single-sex dormitory rooms in the main building of the College. All rooms are single bedrooms furnished with a bed, desk, and wardrobe. There are communal bathrooms located in the male and female wings. Campion College also provides shared accommodation in single-sex housing. Each student has their own bed, desk, wardrobe and en-suite.
How to apply to the university
Complete admissions tasks
To apply to Campion College Australia follow these steps. To get more information about the university and the admissions process, you can use the live chat to contact a university representative.
Required documents for admission
When applying for admission to Campion College Australia in Australia you should prepare all required documents. Request a list of necessary documents directly from a university, as it may vary for different countries. Using our live chat, you can also ask for sample documents.
World Education Services evaluation

Student visa

Health and Life Insurance

Proof of fee payment

Passport

IELTS Certificate

Online Application form

TOEFL Certificate
Why people choose this university
Professional teaching staff
High-quality education
Specialized university
Unique teaching system
Economically developed country
Located near the capital
Attractive tuition fees
Located in a promising city
Contacts
Campion College Australia
8-14 Austin Woodbury Pl
Toongabbie 2146
Australia

Free Apply is not responsible for the content of this page. Through the Site, Free Apply provides an online catalog which you can use to find different types of educational institutions. It's possible for a new university to be registered by any user, however only verified university representatives will be able to manage, reply in chat and make changes to a university page. Once the University registers its official representative, it has the right to block access for others to edit the information. Further control over the content will be carried out by the representative of the University. Registration with the Free-Apply.com catalog is free.
Other Universities on Free-Apply.com