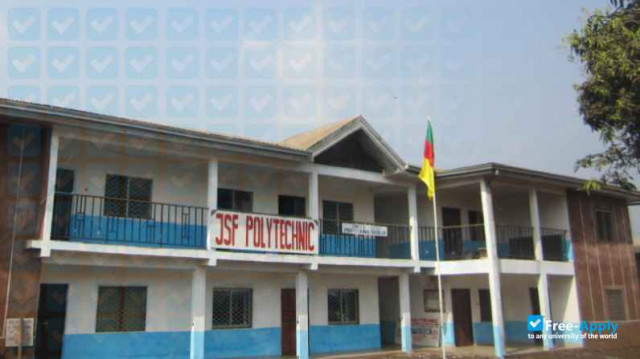 A large number of foreign students
Professional teaching staff
Attractive tuition fees
This is a prestigious higher institution, the only one in the whole of the south west region of Cameroon that offers two certificates from two ministries at the end of two years of studies. Students who pass through the institution earn a NATIONAL DIPLOMA(ND) issued by the Ministry of Employment and Vocational Training during their first year. At the end of the second year, backed by the National Diploma and adequate preparation, students sit for the HIGHER NATIONAL DIPLOMA(HND). This way, the world of employment and further education is opened for graduates
Education programs
Accounting

English

Language of instructions

$335

Fee for international students

$335

Fee for domestic students
English

Language of instructions

$335

Fee for international students

$335

Fee for domestic students
English

Language of instructions

$335

Fee for international students

$335

Fee for domestic students
English

Language of instructions

$335

Fee for international students

$335

Fee for domestic students
English

Language of instructions

$335

Fee for international students

$335

Fee for domestic students
English

Language of instructions

$335

Fee for international students

$335

Fee for domestic students
English

Language of instructions

$335

Fee for international students

$335

Fee for domestic students
English

Language of instructions

$335

Fee for international students

$335

Fee for domestic students
English

Language of instructions

$335

Fee for international students

$335

Fee for domestic students
How to apply to the university
Complete admissions tasks
To apply to JSF Polytechnic Bomaka-Buea follow these steps. To get more information about the university and the admissions process, you can use the live chat to contact a university representative.
Required documents for admission
When applying for admission to JSF Polytechnic Bomaka-Buea in Cameroon you should prepare all required documents. Request a list of necessary documents directly from a university, as it may vary for different countries. Using our live chat, you can also ask for sample documents.
Online Application form

IELTS Certificate

Proof of fee payment

Medical Certificate

Motivation Letter

Letters of reccomendation (MA, PhD)

Student visa

Passport

Photographs

Health and Life Insurance

Application fee

TOEFL Certificate
Why people choose this university
A large number of foreign students
Professional teaching staff
Attractive tuition fees
Contacts
JSF Polytechnic Bomaka-Buea
JSF-IBS is located at Miss Bright Street, B P. O Box 84.
Buea
Cameroon

Free Apply is not responsible for the content of this page. Through the Site, Free Apply provides an online catalog which you can use to find different types of educational institutions. It's possible for a new university to be registered by any user, however only verified university representatives will be able to manage, reply in chat and make changes to a university page. Once the University registers its official representative, it has the right to block access for others to edit the information. Further control over the content will be carried out by the representative of the University. Registration with the Free-Apply.com catalog is free.
Other Universities on Free-Apply.com