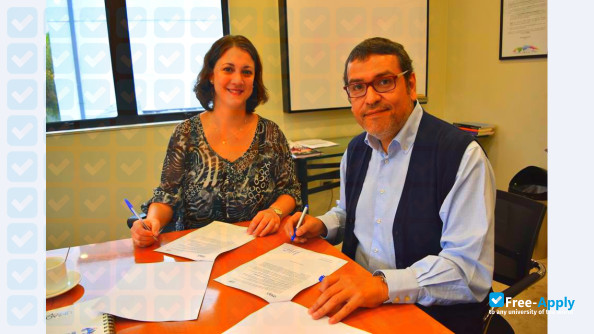 International education standards
Care for international students
Ability to work during training
UNIACC University, acronym for University of Arts, Sciences and Communication, is a private Chilean university not accredited by the National Accreditation Commission (CNA-Chile) . It is located in Providencia, Santiago, Chile. It is oriented to the careers of the communications industry, and has been autonomous since 2000. Since April 2016 it is controlled by the US company Apollo Education Group, which bought it from the Guiloff family for US $ 44 million. Uniacc ranks as the 43rd Chilean university according to the CSIC web ranking in July 2011, out of a total of 64.6 and in the 39th place according to the ranking of El Mercurio, out of a total of 53.7 During 2012, it was also the Fourth university with the highest rate of claims made to the National Consumer Service (Sernac) by its students. It is a reference University in the field of Communications and Arts in Latin America. It promotes overseas mobility programs for its students. During 2016 he has accredited two careers: Visual Arts and Translation and Bilingual Interpreting (English-Spanish)
Education programs
Arts

Spanish

Language of instructions

$3,200

Fee for international students

$3,200

Fee for domestic students
Spanish

Language of instructions

$3,200

Fee for international students

$3,200

Fee for domestic students
Spanish

Language of instructions

$3,200

Fee for international students

$3,200

Fee for domestic students
Spanish

Language of instructions

$3,200

Fee for international students

$3,200

Fee for domestic students
Spanish

Language of instructions

$3,200

Fee for international students

$3,200

Fee for domestic students
Spanish

Language of instructions

$3,200

Fee for international students

$3,200

Fee for domestic students
Spanish

Language of instructions

$3,200

Fee for international students

$3,200

Fee for domestic students
Spanish

Language of instructions

$3,200

Fee for international students

$3,200

Fee for domestic students
Spanish

Language of instructions

$3,200

Fee for international students

$3,200

Fee for domestic students
How to apply to the university
Complete admissions tasks
To apply to University of Arts, Sciences and Communication follow these steps. To get more information about the university and the admissions process, you can use the live chat to contact a university representative.
Required documents for admission
When applying for admission to University of Arts, Sciences and Communication in Chile you should prepare all required documents. Request a list of necessary documents directly from a university, as it may vary for different countries. Using our live chat, you can also ask for sample documents.
Resume/CV (graduate, postgraduate)

Health and Life Insurance

Proof of fee payment

Photographs

Birth Certificate

Motivation Letter

Application fee

Research proposal outline (MA, PhD)

Student visa

Declaration for financial support

Local Language Certificate

Passport
Why people choose this university
International education standards
Care for international students
Ability to work during training
Contacts
University of Arts, Sciences and Communication
Av. Salvador 1200
Lombron 7500000
Chile

Free Apply is not responsible for the content of this page. Through the Site, Free Apply provides an online catalog which you can use to find different types of educational institutions. It's possible for a new university to be registered by any user, however only verified university representatives will be able to manage, reply in chat and make changes to a university page. Once the University registers its official representative, it has the right to block access for others to edit the information. Further control over the content will be carried out by the representative of the University. Registration with the Free-Apply.com catalog is free.
Other Universities on Free-Apply.com