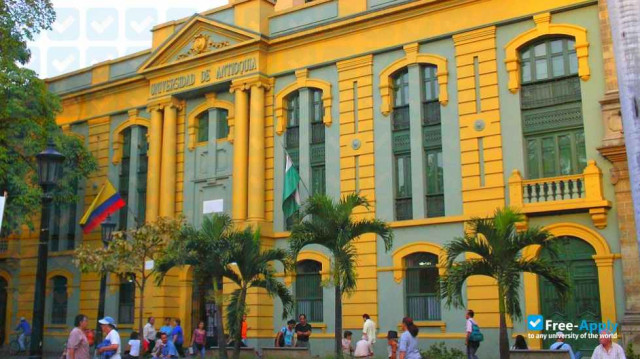 Many years of training experience
International cooperation
Wide range of departments
The University of Antioquia (Spanish: Universidad de Antioquia), also called UdeA, is a public, departmental, coeducational, research university located primarily in the city of Medellín, Antioquia, Colombia, with regional campuses in Amalfi, Andes, Caucasia, Carmen de Viboral, Envigado, Puerto Berrío, Santa Fe de Antioquia, Segovia, Sonsón, Turbo and Yarumal. It is the oldest departmental university in Colombia, founded in 1803 by a Royal Decree issued by King Charles IV of Spain under the name Franciscan College (Spanish: Colegio de Franciscanos). It is considered one of Colombia's best universities, receiving a high quality accreditation from the Ministry of Education for 9 years. Along with the University of the Andes, the two universities hold the second longest term, behind the National University of Colombia. UdeA and the Tecnológico de Antioquia have the largest number of seats in the department of Antioquia. It is also renowned for its prestigious Faculty of Medicine, which is acknowledged as the top medical school in Colombia. The university is a member of the Association of Colombian Universities (ASCUN), the Iberoamerican Association of Postgraduate Universities (AUIP), and the network Universia
Education programs
Accounting

Spanish

Language of instructions

$2,717

Fee for international students

$2,717

Fee for domestic students
Spanish

Language of instructions

$2,717

Fee for international students

$2,717

Fee for domestic students
Spanish

Language of instructions

$2,717

Fee for international students

$2,717

Fee for domestic students
Applied Sciences and Professions

Spanish

Language of instructions

$2,717

Fee for international students

$2,717

Fee for domestic students
Spanish

Language of instructions

$2,717

Fee for international students

$2,717

Fee for domestic students
Spanish

Language of instructions

$2,717

Fee for international students

$2,717

Fee for domestic students
Spanish

Language of instructions

$2,717

Fee for international students

$2,717

Fee for domestic students
Spanish

Language of instructions

$2,717

Fee for international students

$2,717

Fee for domestic students
Spanish

Language of instructions

$2,717

Fee for international students

$2,717

Fee for domestic students
Spanish

Language of instructions

$2,717

Fee for international students

$2,717

Fee for domestic students
Spanish

Language of instructions

$2,717

Fee for international students

$2,717

Fee for domestic students
Spanish

Language of instructions

$2,717

Fee for international students

$2,717

Fee for domestic students
Spanish

Language of instructions

$2,717

Fee for international students

$2,717

Fee for domestic students
Spanish

Language of instructions

$2,717

Fee for international students

$2,717

Fee for domestic students
Spanish

Language of instructions

$2,717

Fee for international students

$2,717

Fee for domestic students
Spanish

Language of instructions

$2,717

Fee for international students

$2,717

Fee for domestic students
Spanish

Language of instructions

$2,717

Fee for international students

$2,717

Fee for domestic students
Spanish

Language of instructions

$2,717

Fee for international students

$2,717

Fee for domestic students
Spanish

Language of instructions

$2,717

Fee for international students

$2,717

Fee for domestic students
Spanish

Language of instructions

$2,717

Fee for international students

$2,717

Fee for domestic students
Spanish

Language of instructions

$2,717

Fee for international students

$2,717

Fee for domestic students
Spanish

Language of instructions

$2,717

Fee for international students

$2,717

Fee for domestic students
Spanish

Language of instructions

$2,717

Fee for international students

$2,717

Fee for domestic students
Spanish

Language of instructions

$2,717

Fee for international students

$2,717

Fee for domestic students
Spanish

Language of instructions

$2,717

Fee for international students

$2,717

Fee for domestic students
Spanish

Language of instructions

$2,717

Fee for international students

$2,717

Fee for domestic students
Spanish

Language of instructions

$2,717

Fee for international students

$2,717

Fee for domestic students
Spanish

Language of instructions

$2,717

Fee for international students

$2,717

Fee for domestic students
Spanish

Language of instructions

$2,717

Fee for international students

$2,717

Fee for domestic students
Spanish

Language of instructions

$2,717

Fee for international students

$2,717

Fee for domestic students
Spanish

Language of instructions

$2,717

Fee for international students

$2,717

Fee for domestic students
Spanish

Language of instructions

$2,717

Fee for international students

$2,717

Fee for domestic students
Spanish

Language of instructions

$2,717

Fee for international students

$2,717

Fee for domestic students
Spanish

Language of instructions

$2,717

Fee for international students

$2,717

Fee for domestic students
Spanish

Language of instructions

$2,717

Fee for international students

$2,717

Fee for domestic students
Spanish

Language of instructions

$2,717

Fee for international students

$2,717

Fee for domestic students
Spanish

Language of instructions

$2,717

Fee for international students

$2,717

Fee for domestic students
How to apply to the university
Complete admissions tasks
To apply to University of Antioquia follow these steps. To get more information about the university and the admissions process, you can use the live chat to contact a university representative.
Required documents for admission
When applying for admission to University of Antioquia in Colombia you should prepare all required documents. Request a list of necessary documents directly from a university, as it may vary for different countries. Using our live chat, you can also ask for sample documents.
Motivation Letter

Proof of fee payment

Letters of reccomendation (MA, PhD)

HIV-test Certificate

Photographs

Student visa

Health and Life Insurance

Online Application form

Declaration for financial support

Passport
Why people choose this university
Many years of training experience
International cooperation
Wide range of departments
Contacts
University of Antioquia
Calle 67 Número 53 - 108 / Apartado Aéreo 1226/ Medellín - Colombia
Medellin
Colombia

Free Apply is not responsible for the content of this page. Through the Site, Free Apply provides an online catalog which you can use to find different types of educational institutions. It's possible for a new university to be registered by any user, however only verified university representatives will be able to manage, reply in chat and make changes to a university page. Once the University registers its official representative, it has the right to block access for others to edit the information. Further control over the content will be carried out by the representative of the University. Registration with the Free-Apply.com catalog is free.
Other Universities on Free-Apply.com