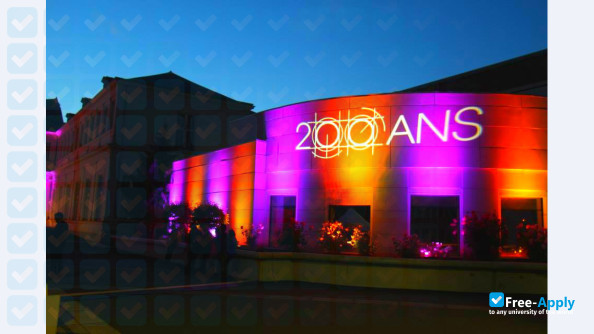 Many years of training experience
Economically developed country
International recognition
Arts et Métiers ParisTech, dont le nom officiel au 19 février 2016 est École nationale supérieure d'arts et métiers,(ENSAM), est l'une des 210 écoles d'ingénieurs françaises habilitées à délivrer un diplôme d'ingénieur. Elle est historiquement reconnue pour sa formation et son diplôme d'ingénieur généraliste : le diplôme délivré est le diplôme d'«ingénieur de l'École nationale supérieure d'arts et métiers». Rattachée au ministère de l'Enseignement supérieur et de la Recherche, elle est aujourd'hui la plus grande école d'ingénieurs française en termes d'effectifs (plus de 6 000 étudiants entre élèves-ingénieurs, mastériens et doctorants) et fait figure de référence pour l'enseignement du génie industriel et mécanique. École unique disposant d'un réseau de huit campus sur tout le territoire français, elle occupe des locaux voués à l'enseignement et la recherche. Ces locaux sont des monuments historiques (tels que l'Abbaye de Cluny) ainsi que des bâtiments modernes (CER de Metz). Ses quinze laboratoires spécialisés, l'institut Carnot ARTS et ses 3 instituts nationaux la placent au cœur de la recherche et de l'innovation scientifique. Son évolution et son ouverture internationale au cours des vingt dernières années ont largement diversifié ses axes d'enseignement : MBA, Bachelor de technologie, diplôme d'ingénieur par l'apprentissage, entrepreneuriat ou encore mastères spécialisés. Arts et Métiers ParisTech est également l'une des plus prestigieuses et des plus anciennes écoles d'ingénieurs de France, fondée en 1780 par le duc de La Rochefoucauld-Liancourt. Ses élèves – portant l'uniforme des gadzarts – et ses anciens élèves, réunis dans la Société des ingénieurs Arts et Métiers, constituent le plus important réseau européen d'ingénieurs issus d'un même établissement.
Education programs
Technology

French

Language of instructions

$660

Fee for international students

$660

Fee for domestic students
How to apply to the university
Complete admissions tasks
To apply to Arts and Crafts ParisTech follow these steps. To get more information about the university and the admissions process, you can use the live chat to contact a university representative.
Required documents for admission
When applying for admission to Arts and Crafts ParisTech in France you should prepare all required documents. Request a list of necessary documents directly from a university, as it may vary for different countries. Using our live chat, you can also ask for sample documents.
Resume/CV (graduate, postgraduate)

Local Language Certificate

Supervisor Agreement Form (PhD)

Proof of fee payment

Motivation Letter

Declaration for financial support

Photographs

Student visa

Passport

Research proposal outline (MA, PhD)

Online Application form

Health and Life Insurance
Why people choose this university
Many years of training experience
Economically developed country
International recognition
Contacts
Arts and Crafts ParisTech
151 boulevard de l'Hôpital
Paris 75013
France

Free Apply is not responsible for the content of this page. Through the Site, Free Apply provides an online catalog which you can use to find different types of educational institutions. It's possible for a new university to be registered by any user, however only verified university representatives will be able to manage, reply in chat and make changes to a university page. Once the University registers its official representative, it has the right to block access for others to edit the information. Further control over the content will be carried out by the representative of the University. Registration with the Free-Apply.com catalog is free.
Other Universities on Free-Apply.com