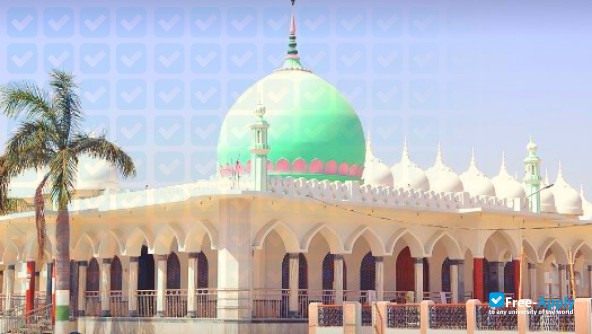 High-quality education
Programs include practical training
A popular university
It started off as a madrasa called Misbah al-Ulum in 1898 in the town of Mubarakpur of what was then British India. It was named 'Ashrafia' after the most prominent Saint of not only the subcontinent but the world Ala Hadrat Shah Ali Hussain of Kichaucha. After struggling for many years and moving locations several times, a new building was constructed using funds raised by Hafiz Abd al-Aziz Muradabadi. This was the site for the school now known as Dar al-Ulum Ahl-i Sunnat or Misbah al-Ulum. Realizing that the site was becoming too small, Hafiz Abd al-Aziz organized an educational conference in May 1972 to discuss moving Ashrafiyya to a larger campus. Scholars of the Barelwi Movement like Mustafa Raza Khan son of Ahmad Raza Khan and Allama Arshadul Qaudri laid the foundation stone with the mission of making it a University for Sunni Hanafi Islamic Ideology in 1972 at a site outside the city of Azamgarh. Key figures such as Allama Ziyaul Mustafa, Allama Arshadul Qaudri, Allama Mumtaz Ahmad Ashrafulqadri, Mufti Abdul Mannan, Maulana Shafi, Janab Qari Yehya Sahab and Qamaruzzaman Azmi worked hard with Abd al-Aziz Muradabadi to raise the required funds to build the institution.
Education programs
Culturology

English

Language of instructions

$905

Fee for international students

$905

Fee for domestic students
English

Language of instructions

$905

Fee for international students

$905

Fee for domestic students
English

Language of instructions

$905

Fee for international students

$905

Fee for domestic students
How to apply to the university
Complete admissions tasks
To apply to Al Jamiatul Ashrafia follow these steps. To get more information about the university and the admissions process, you can use the live chat to contact a university representative.
Required documents for admission
When applying for admission to Al Jamiatul Ashrafia in India you should prepare all required documents. Request a list of necessary documents directly from a university, as it may vary for different countries. Using our live chat, you can also ask for sample documents.
Declaration for financial support

IELTS Certificate

Family Details

Scanned copy of signature

TOEFL Certificate

Photographs

Proof of fee payment

Birth Certificate

Application fee

Student visa

Online Application form

Passport

Medical Certificate

Health and Life Insurance
Why people choose this university
High-quality education
Programs include practical training
A popular university
Free Apply is not responsible for the content of this page. Through the Site, Free Apply provides an online catalog which you can use to find different types of educational institutions. It's possible for a new university to be registered by any user, however only verified university representatives will be able to manage, reply in chat and make changes to a university page. Once the University registers its official representative, it has the right to block access for others to edit the information. Further control over the content will be carried out by the representative of the University. Registration with the Free-Apply.com catalog is free.
Other Universities on Free-Apply.com