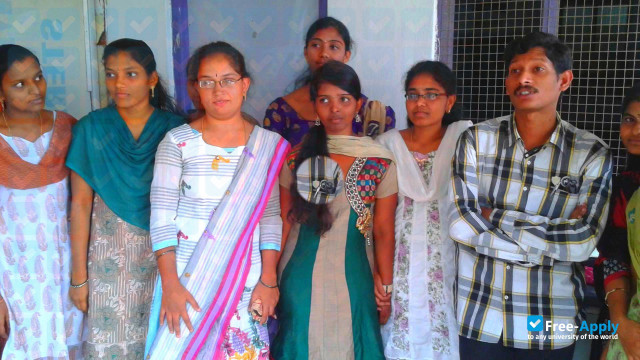 Wide range of departments
Located in a large city
Programs in demand
Nava Chaithanya Junior College established in 1992, with the prime objective of satisfying various academic needs of the students. We have excelled in shaping the young aspirants to achieve success for 24 years now. A syndicate of lecturers are running the Institute with a successful, well organised and frequently updated teaching methodology to guide students towards their goals. Nava Chaithanya embraces the vision of its Academic Community that transforms mind, body and spirit and encourages freedom of thought and liberty of conscience. Nava Chaithanya is not just an educational institution, we are a commitment. A commitment of building smart and capable individuals by integrating learning across the disciplines and putting knowledge into practice, thus preparing students to be Global Citizens and informed leaders motivated by concern for the common good.
Education programs
Computer Science

English

Language of instructions

$917

Fee for international students

$917

Fee for domestic students
English

Language of instructions

$917

Fee for international students

$917

Fee for domestic students
How to apply to the university
Complete admissions tasks
To apply to Nava Chaitanya Degree and PG College follow these steps. To get more information about the university and the admissions process, you can use the live chat to contact a university representative.
Required documents for admission
When applying for admission to Nava Chaitanya Degree and PG College in India you should prepare all required documents. Request a list of necessary documents directly from a university, as it may vary for different countries. Using our live chat, you can also ask for sample documents.
Student visa

Online Application form

TOEFL Certificate

Family Details

Medical Certificate

Declaration for financial support

Birth Certificate

Proof of fee payment

Health and Life Insurance

IELTS Certificate

Application fee

Scanned copy of signature

Passport

Photographs
Why people choose this university
Wide range of departments
Located in a large city
Programs in demand
Contacts
Nava Chaitanya Degree and PG College
3-5-169/6/A, Venkataramana Buildings, Opp. Shanti Theatre, Narayanaguda, Hyderabad
Hyderabad
India

Free Apply is not responsible for the content of this page. Through the Site, Free Apply provides an online catalog which you can use to find different types of educational institutions. It's possible for a new university to be registered by any user, however only verified university representatives will be able to manage, reply in chat and make changes to a university page. Once the University registers its official representative, it has the right to block access for others to edit the information. Further control over the content will be carried out by the representative of the University. Registration with the Free-Apply.com catalog is free.
Other Universities on Free-Apply.com