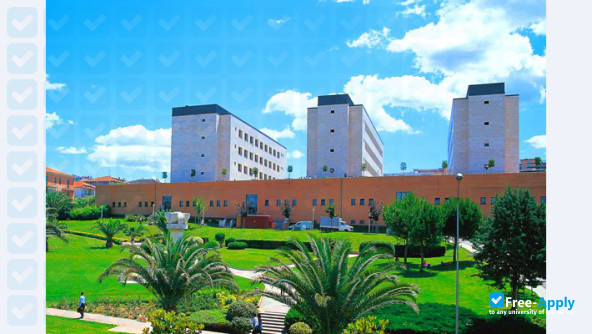 A comfortable learning environment
Developed infrastructure
International exchange programs
The "G. d'Annunzio" University derives its name from the writer, Gabriele d'Annunzio. It was first instituted as an independent university in 1960. It was originally located in the medieval town of Chieti and comprised only few faculties. In 1982 it gained the status of national university and has subsequently grown. Besides its faculties, there are several distinct centres: the Center of Excellence for Aging Sciences (Ce.S.I.); the Institute of Advanced Biomedical Technologies (ITAB); the Center for Continuing Education (CEDUC); the "G. d'Annunzio" University Foundation; and the Leonardo da Vinci On-line Distance University. A University with a high scientific-technological profile despite its young history. Leading the way with structures, equipment and training courses in the ongoing academic year counts 36,000 students
Education programs
Administration

Italian

Language of instructions

$1,320

Fee for international students

$1,320

Fee for domestic students
Building and Construction

Italian

Language of instructions

$1,320

Fee for international students

$1,320

Fee for domestic students
Italian

Language of instructions

$1,320

Fee for international students

$1,320

Fee for domestic students
Italian

Language of instructions

$1,320

Fee for international students

$1,320

Fee for domestic students
Italian

Language of instructions

$1,320

Fee for international students

$1,320

Fee for domestic students
Italian

Language of instructions

$1,320

Fee for international students

$1,320

Fee for domestic students
Italian

Language of instructions

$1,320

Fee for international students

$1,320

Fee for domestic students
Italian

Language of instructions

$1,320

Fee for international students

$1,320

Fee for domestic students
Italian

Language of instructions

$1,320

Fee for international students

$1,320

Fee for domestic students
Italian

Language of instructions

$1,320

Fee for international students

$1,320

Fee for domestic students
Italian

Language of instructions

$1,320

Fee for international students

$1,320

Fee for domestic students
How to apply to the university
Complete admissions tasks
To apply to University of Chieti-Pescara follow these steps. To get more information about the university and the admissions process, you can use the live chat to contact a university representative.
Required documents for admission
When applying for admission to University of Chieti-Pescara in Italy you should prepare all required documents. Request a list of necessary documents directly from a university, as it may vary for different countries. Using our live chat, you can also ask for sample documents.
Online Application form

Proof of fee payment

Photographs

Local Language Certificate

Declaration for financial support

Application fee

Health and Life Insurance

Passport

Student visa

Family Details
Why people choose this university
A comfortable learning environment
Developed infrastructure
International exchange programs
Contacts
University of Chieti-Pescara
Via dei Vestini, 31
Chieti 66100
Italy

Free Apply is not responsible for the content of this page. Through the Site, Free Apply provides an online catalog which you can use to find different types of educational institutions. It's possible for a new university to be registered by any user, however only verified university representatives will be able to manage, reply in chat and make changes to a university page. Once the University registers its official representative, it has the right to block access for others to edit the information. Further control over the content will be carried out by the representative of the University. Registration with the Free-Apply.com catalog is free.
Other Universities on Free-Apply.com