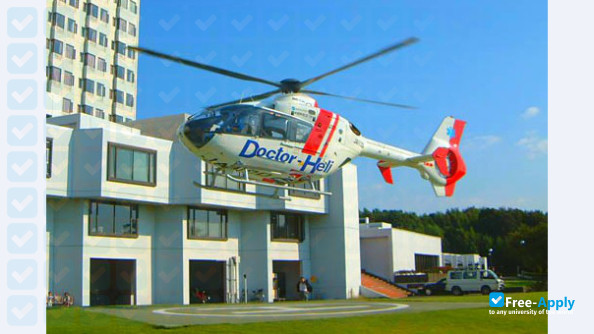 Specialized university
Developed infrastructure
Practicing teaching staff
Aichi Medical University is located in Nagakute city near the eastern part of Nagoya city, Nagakute is the old battlefield of the battle of Komaki and Nagakute fought by Toyotomi Hideyoshi and Tokugawa Ieyasu in 1584, and the 2005 World Expo "Ai · Earth It is famous as a venue for Expo. Although it is a relatively young university that was built in 1972, in graduate school of medicine in 1980, undergraduate nursing department in 2000, graduate school nursing graduate school was established in 2004, it became system of 2 undergraduate and 2 graduate school It was. There are 3,800 graduates of the medical faculty so far, 3,756 (98.8%) of which are doctors, and the total number of graduates of the nursing department is 1,271, of which 1,246 (98.0%) are nurses .
Education programs
Medicine

Japanese

Language of instructions

$8,789

Fee for international students

$8,789

Fee for domestic students
Japanese

Language of instructions

$8,789

Fee for international students

$8,789

Fee for domestic students
How to apply to the university
Complete admissions tasks
To apply to Aichi Medical University follow these steps. To get more information about the university and the admissions process, you can use the live chat to contact a university representative.
Required documents for admission
When applying for admission to Aichi Medical University in Japan you should prepare all required documents. Request a list of necessary documents directly from a university, as it may vary for different countries. Using our live chat, you can also ask for sample documents.
Health and Life Insurance

Application fee

Passport

Online Application form

Research proposal outline (MA, PhD)

IELTS Certificate

TOEFL Certificate

Medical Certificate

Proof of fee payment

Declaration for financial support
Why people choose this university
Specialized university
Developed infrastructure
Practicing teaching staff
Free Apply is not responsible for the content of this page. Through the Site, Free Apply provides an online catalog which you can use to find different types of educational institutions. It's possible for a new university to be registered by any user, however only verified university representatives will be able to manage, reply in chat and make changes to a university page. Once the University registers its official representative, it has the right to block access for others to edit the information. Further control over the content will be carried out by the representative of the University. Registration with the Free-Apply.com catalog is free.
Other Universities on Free-Apply.com