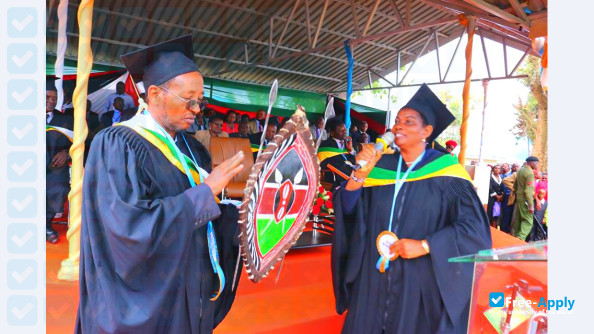 International exchange programs
Ability to work during training
Programs in demand
The Meru National Polytechnic was upgraded from Meru technical training institute in 2016 and has been in operation since 1956 when it was started by the Meru county council to train the youth in various practical skills. It was then known as Gitoro Technical. In 1964,the school was handed over to the regional education office and it became Meru Technical school,Offering courses of two year duration . In 1969 the school was upgraded to a technical vocational Training school and the course duration extended to three years.In the same year,the first form one students were admitted to be prepared for KJSE(Kenya Junior Secondary School Examination) Technical at the end of two years.Those who passed and wished to continue to form three and four were transferred to MIOME (Mombasa Institute of Muslim Education) the present day Mombasa Polytechnic.Those who remained were for further one year before joining the labour market. In 1973,the school was once more upgraded to a Technical secondary school and the terminal examination became East African Certificate of Education.In 1985 the secondary cycle started being phased out so that it became a Technical Training Institute in May 1986.It admitted the first artisans students and ACNC(Accounts clerk National Certificate)students
Education programs
Accounting

English

Language of instructions

$695

Fee for international students

$695

Fee for domestic students
English

Language of instructions

$695

Fee for international students

$695

Fee for domestic students
English

Language of instructions

$695

Fee for international students

$695

Fee for domestic students
Applied Sciences and Professions

English

Language of instructions

$695

Fee for international students

$695

Fee for domestic students
English

Language of instructions

$695

Fee for international students

$695

Fee for domestic students
Building and Construction

English

Language of instructions

$695

Fee for international students

$695

Fee for domestic students
English

Language of instructions

$695

Fee for international students

$695

Fee for domestic students
English

Language of instructions

$695

Fee for international students

$695

Fee for domestic students
English

Language of instructions

$695

Fee for international students

$695

Fee for domestic students
English

Language of instructions

$695

Fee for international students

$695

Fee for domestic students
English

Language of instructions

$695

Fee for international students

$695

Fee for domestic students
English

Language of instructions

$695

Fee for international students

$695

Fee for domestic students
English

Language of instructions

$695

Fee for international students

$695

Fee for domestic students
English

Language of instructions

$695

Fee for international students

$695

Fee for domestic students
English

Language of instructions

$695

Fee for international students

$695

Fee for domestic students
English

Language of instructions

$695

Fee for international students

$695

Fee for domestic students
English

Language of instructions

$695

Fee for international students

$695

Fee for domestic students
English

Language of instructions

$695

Fee for international students

$695

Fee for domestic students
English

Language of instructions

$695

Fee for international students

$695

Fee for domestic students
English

Language of instructions

$695

Fee for international students

$695

Fee for domestic students
English

Language of instructions

$695

Fee for international students

$695

Fee for domestic students
English

Language of instructions

$695

Fee for international students

$695

Fee for domestic students
English

Language of instructions

$695

Fee for international students

$695

Fee for domestic students
English

Language of instructions

$695

Fee for international students

$695

Fee for domestic students
English

Language of instructions

$695

Fee for international students

$695

Fee for domestic students
How to apply to the university
Complete admissions tasks
To apply to Meru National Polytechnic follow these steps. To get more information about the university and the admissions process, you can use the live chat to contact a university representative.
Required documents for admission
When applying for admission to Meru National Polytechnic in Kenya you should prepare all required documents. Request a list of necessary documents directly from a university, as it may vary for different countries. Using our live chat, you can also ask for sample documents.
Family Details

Health and Life Insurance

Online Application form

Student visa

Passport

TOEFL Certificate

Proof of fee payment

Photographs

Application fee

IELTS Certificate

Experience certificate (MA, PhD)
Why people choose this university
International exchange programs
Ability to work during training
Programs in demand
Contacts
Meru National Polytechnic
PO Box 111-60200-MERU
Meru
Kenya

Free Apply is not responsible for the content of this page. Through the Site, Free Apply provides an online catalog which you can use to find different types of educational institutions. It's possible for a new university to be registered by any user, however only verified university representatives will be able to manage, reply in chat and make changes to a university page. Once the University registers its official representative, it has the right to block access for others to edit the information. Further control over the content will be carried out by the representative of the University. Registration with the Free-Apply.com catalog is free.
Other Universities on Free-Apply.com