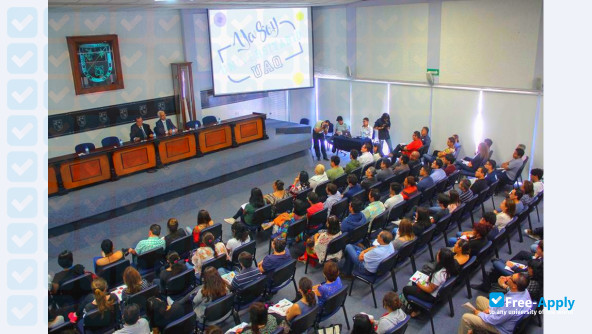 Communication with native speakers
Programs in demand
Wide range of departments
The 24 of February of 1951 began its classes the Autonomous University of Querétaro with the preparatory school, the school of Right and the school of Engineering; The latter only with the first two grades, since the rest was in the Faculty of UNAM. In 1952, Dr. Vasconcelos coined the phrase "I Educate in Truth and Honor" which has since been the motto and symbol of the Universidad Autónoma de Querétaro. In that same year the schools of Chemistry and Nursing were created. In 1953 was founded the Institute of Fine Arts and in 1954 the School of Commerce, later School of Accounting. The governor, Lic. Juan C. Gorráez, appointed rector to Dr. José Alcocer Pozo and with this exploded the so-called conflict of 58, asking the students, in addition to the return of Mr. Fernando Díaz Ramírez, as rector, the autonomy of the Institution
Education programs
Accounting

Spanish

Language of instructions

$1,859

Fee for international students

$1,859

Fee for domestic students
Spanish

Language of instructions

$1,859

Fee for international students

$1,859

Fee for domestic students
Spanish

Language of instructions

$1,859

Fee for international students

$1,859

Fee for domestic students
Spanish

Language of instructions

$1,859

Fee for international students

$1,859

Fee for domestic students
Spanish

Language of instructions

$1,859

Fee for international students

$1,859

Fee for domestic students
Spanish

Language of instructions

$1,859

Fee for international students

$1,859

Fee for domestic students
Spanish

Language of instructions

$1,859

Fee for international students

$1,859

Fee for domestic students
Spanish

Language of instructions

$1,859

Fee for international students

$1,859

Fee for domestic students
Spanish

Language of instructions

$1,859

Fee for international students

$1,859

Fee for domestic students
Spanish

Language of instructions

$1,859

Fee for international students

$1,859

Fee for domestic students
Spanish

Language of instructions

$1,859

Fee for international students

$1,859

Fee for domestic students
Spanish

Language of instructions

$1,859

Fee for international students

$1,859

Fee for domestic students
Spanish

Language of instructions

$1,859

Fee for international students

$1,859

Fee for domestic students
Spanish

Language of instructions

$1,859

Fee for international students

$1,859

Fee for domestic students
Spanish

Language of instructions

$1,859

Fee for international students

$1,859

Fee for domestic students
Spanish

Language of instructions

$1,859

Fee for international students

$1,859

Fee for domestic students
Spanish

Language of instructions

$1,859

Fee for international students

$1,859

Fee for domestic students
Spanish

Language of instructions

$1,859

Fee for international students

$1,859

Fee for domestic students
Spanish

Language of instructions

$1,859

Fee for international students

$1,859

Fee for domestic students
Spanish

Language of instructions

$1,859

Fee for international students

$1,859

Fee for domestic students
Spanish

Language of instructions

$1,859

Fee for international students

$1,859

Fee for domestic students
Spanish

Language of instructions

$1,859

Fee for international students

$1,859

Fee for domestic students
Spanish

Language of instructions

$1,859

Fee for international students

$1,859

Fee for domestic students
Spanish

Language of instructions

$1,859

Fee for international students

$1,859

Fee for domestic students
Spanish

Language of instructions

$1,859

Fee for international students

$1,859

Fee for domestic students
Spanish

Language of instructions

$1,859

Fee for international students

$1,859

Fee for domestic students
Spanish

Language of instructions

$1,859

Fee for international students

$1,859

Fee for domestic students
Spanish

Language of instructions

$1,859

Fee for international students

$1,859

Fee for domestic students
Spanish

Language of instructions

$1,859

Fee for international students

$1,859

Fee for domestic students
Spanish

Language of instructions

$1,859

Fee for international students

$1,859

Fee for domestic students
Spanish

Language of instructions

$1,859

Fee for international students

$1,859

Fee for domestic students
Spanish

Language of instructions

$1,859

Fee for international students

$1,859

Fee for domestic students
Spanish

Language of instructions

$1,859

Fee for international students

$1,859

Fee for domestic students
Spanish

Language of instructions

$1,859

Fee for international students

$1,859

Fee for domestic students
Spanish

Language of instructions

$1,859

Fee for international students

$1,859

Fee for domestic students
Spanish

Language of instructions

$1,859

Fee for international students

$1,859

Fee for domestic students
Spanish

Language of instructions

$1,859

Fee for international students

$1,859

Fee for domestic students
How to apply to the university
Complete admissions tasks
To apply to Autonomous University of Queretaro follow these steps. To get more information about the university and the admissions process, you can use the live chat to contact a university representative.
Required documents for admission
When applying for admission to Autonomous University of Queretaro in Mexico you should prepare all required documents. Request a list of necessary documents directly from a university, as it may vary for different countries. Using our live chat, you can also ask for sample documents.
Online Application form

Proof of fee payment

Application fee

Photographs

Passport

Family Details

Declaration for financial support

Student visa

Health and Life Insurance
Why people choose this university
Communication with native speakers
Programs in demand
Wide range of departments
Free Apply is not responsible for the content of this page. Through the Site, Free Apply provides an online catalog which you can use to find different types of educational institutions. It's possible for a new university to be registered by any user, however only verified university representatives will be able to manage, reply in chat and make changes to a university page. Once the University registers its official representative, it has the right to block access for others to edit the information. Further control over the content will be carried out by the representative of the University. Registration with the Free-Apply.com catalog is free.
Other Universities on Free-Apply.com