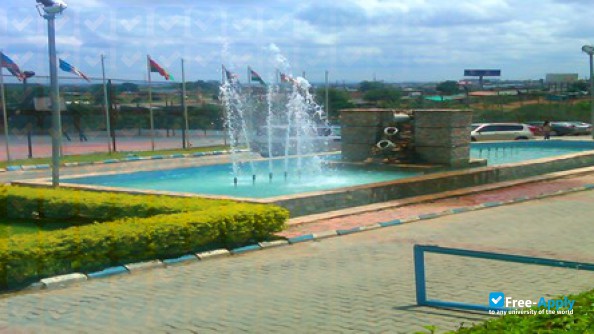 Located in a promising city
Professional teaching staff
Accredited university
7 more benefits
***Admission for the 2023/2024 session begins July 2023*** Lead City University offers various programmes suitable for both the young adolescents and adult working class. We recognize the need to accommodate the time constraints of professional individuals and therefore provide flexibility by allowing for a choice between part-time and full-time study modes. Programmes are offered by specialized faculties in Medicine, Applied Sciences, Engineering, Law, Social & Management Sciences, Communication & Information Science, Environmental Design & Management, Arts & Education and Medical Sciences. Website: www.lcu.edu.ng 📨: admissions@lcu.edu.ng (undergraduate admissions) or pgschool@lcu.edu.ng (postgraduate admissions). ***Undergraduate Admission Portal: https://admissions.lcu.edu.ng/*** ***For enquiries on Undergraduate and Postgraduate admissions, please contact our call center: +234 815 331 8702, +234 815 331 8708, +234 815 331 8709, +234 813 597 6544, +234 815 331 8763, +234 806 163 3228
Education programs
Accounting

English

Language of instructions

$1,087

Fee for international students

$1,087

Fee for domestic students
English

Language of instructions

$384

Fee for international students

$384

Fee for domestic students

English

Language of instructions

$639

Fee for international students

$639

Fee for domestic students
Applied Sciences and Professions

English

Language of instructions

$639

Fee for international students

$639

Fee for domestic students
English

Language of instructions

$1,087

Fee for international students

$1,087

Fee for domestic students
English

Language of instructions

$639

Fee for international students

$639

Fee for domestic students
English

Language of instructions

$1,087

Fee for international students

$1,087

Fee for domestic students

English

Language of instructions

$639

Fee for international students

$639

Fee for domestic students
Building and Construction
English

Language of instructions

$1,087

Fee for international students

$1,087

Fee for domestic students
English

Language of instructions

$1,087

Fee for international students

$1,087

Fee for domestic students
English

Language of instructions

$639

Fee for international students

$639

Fee for domestic students
English

Language of instructions

$639

Fee for international students

$639

Fee for domestic students

English

Language of instructions

$1,087

Fee for international students

$1,087

Fee for domestic students

English

Language of instructions

$639

Fee for international students

$639

Fee for domestic students
English

Language of instructions

$1,087

Fee for international students

$1,087

Fee for domestic students
English

Language of instructions

$639

Fee for international students

$639

Fee for domestic students
English

Language of instructions

$639

Fee for international students

$639

Fee for domestic students

English

Language of instructions

$639

Fee for international students

$639

Fee for domestic students
English

Language of instructions

$1,087

Fee for international students

$1,087

Fee for domestic students
English

Language of instructions

$1,087

Fee for international students

$1,087

Fee for domestic students

English

Language of instructions

$1,087

Fee for international students

$1,087

Fee for domestic students
English

Language of instructions

$3,196

Fee for international students

$3,196

Fee for domestic students
English

Language of instructions

$384

Fee for international students

$384

Fee for domestic students
English

Language of instructions

$639

Fee for international students

$639

Fee for domestic students
English

Language of instructions

$384

Fee for international students

$384

Fee for domestic students
English

Language of instructions

$1,087

Fee for international students

$1,087

Fee for domestic students
International students friendly
All academic documents and transcripts must be converted via the Nigerian Ministry of Education before they can be used for application. Please visit https://education.gov.ng/contact-us/ For applicants in West African countries your WAEC will serve as your O'level results. We also accept A'level and foundation programme results. The official language of Nigeria is English. Thus, International students are not eligible to apply without a good understanding of the English language
Accommodation
Lead City University provides conducive and safe student accommodation within the University premises for both Male and Female Students. Students are not allowed to cook within the halls of residence due to safety and fire hazard concerns. Instead a cafeteria as well as other eateries within the university premises are available at a subsidized rate. Accommodation and Feeding is N420,000 per academic session Please note that this fee is not included in your Tuition.
How to apply to the university
Complete admissions tasks
To apply to Lead City University, Ibadan follow these steps. To get more information about the university and the admissions process, you can use the live chat to contact a university representative.
Required documents for admission
When applying for admission to Lead City University, Ibadan in Nigeria you should prepare all required documents. Request a list of necessary documents directly from a university, as it may vary for different countries. Using our live chat, you can also ask for sample documents.
Sponsors I.D card

Sponsors Letter

Academic Transcripts or O'level and UTME results

Birth Certificate

Recommendation Letter

Online Application form
Why people choose this university
Located in a promising city
Professional teaching staff
Accredited university
Modern campus
Ability to work during training
High-quality education
Located in a large city
Programs in demand
Communication with native speakers
International environment
Contacts
Lead City University, Ibadan
Office of the Registrar, Lead City University, Ibadan
Lagos-Ibadan Express Way, Toll Gate Area
Ibadan 200255
Nigeria

Free Apply is not responsible for the content of this page. Through the Site, Free Apply provides an online catalog which you can use to find different types of educational institutions. It's possible for a new university to be registered by any user, however only verified university representatives will be able to manage, reply in chat and make changes to a university page. Once the University registers its official representative, it has the right to block access for others to edit the information. Further control over the content will be carried out by the representative of the University. Registration with the Free-Apply.com catalog is free.
Other Universities on Free-Apply.com