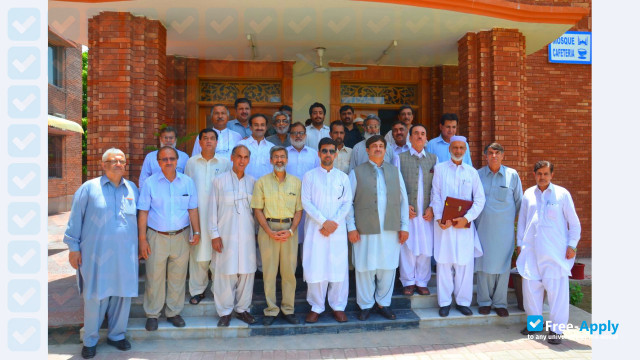 Specialized university
Modern campus
International exchange programs
The Government of Balochistan realized the need of development of manpower in the field of Postgraduate Medical and Dental Education in the province. To achieve this goal the Government established the Postgraduate Medical Institute Quetta (PGMI) in Feb 2003. This institute has been awarded the statues of attached department of the Health Secretariat and provided with the mandate to start the minor and major qualifications in the field of different Basic and Clinical Medical sciences. The institute has affiliation with University of Balochistan and recognition with Pakistan Medical and Dental Council for the sake of its different postgraduate medical and Dental qualification. Presently PGMI is running 20 courses in various discipline of medical science which includes 10 diplomas (Minor Qualification) and 10 degree courses (Major Qualification).
Education programs
Medicine

Urdu

Language of instructions

$408

Fee for international students

$408

Fee for domestic students
Urdu

Language of instructions

$408

Fee for international students

$408

Fee for domestic students
How to apply to the university
Complete admissions tasks
To apply to Postgraduate Medical Institute Quetta follow these steps. To get more information about the university and the admissions process, you can use the live chat to contact a university representative.
Required documents for admission
When applying for admission to Postgraduate Medical Institute Quetta in Pakistan you should prepare all required documents. Request a list of necessary documents directly from a university, as it may vary for different countries. Using our live chat, you can also ask for sample documents.
Passport

Online Application form

Proof of fee payment

Student visa

Family Details

Health and Life Insurance

Application fee
Why people choose this university
Specialized university
Modern campus
International exchange programs
Contacts
Postgraduate Medical Institute Quetta
Directorate Post Graduate Medical Institute, Quetta
Quetta
Pakistan

Free Apply is not responsible for the content of this page. Through the Site, Free Apply provides an online catalog which you can use to find different types of educational institutions. It's possible for a new university to be registered by any user, however only verified university representatives will be able to manage, reply in chat and make changes to a university page. Once the University registers its official representative, it has the right to block access for others to edit the information. Further control over the content will be carried out by the representative of the University. Registration with the Free-Apply.com catalog is free.
Other Universities on Free-Apply.com