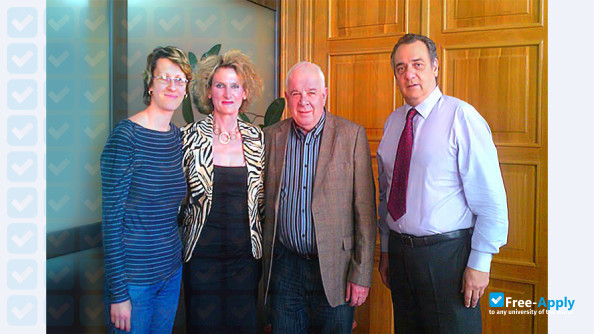 Unique teaching system
High scientific degree
Professional teaching staff
Gheorghe Asachi Technical University offers 4-year programmes, awarding the degree of Bachelor of Science ("Engineer"), and graduate/postgraduate programmes awarding the degrees of Master and Doctorate/PhD. The degree of "Architect" is awarded at the end of a 6-year programme as a combined Bachelor/Master's degree programme. There is also a postgraduate school of Management and Business Administration. The academic year consists of two 14 weeks semesters, each of them ending with an examination session. The weekly workload is about 28 hours. There is also a 3-week period of industrial placement during summer, while half of the final semester (the eighth) in the last year of study, is devoted to completing the diploma thesis and dissertation. The first two years of the 4-year programmes are devoted to providing an introduction to engineering as well as the necessary background in Physics and Mathematics. Beginning with the third year, students can choose from a number of specializations. Students who obtain a score of at least 8 out of 10 in the "licence exam" at the end of their "Engineer" degree courses are eligible to take an entrance examination for 1.5 to 2-year Master's course, the length of studies depending on the chosen specialization. All graduates awarded a master's degree, are eligible to enrol on a PhD Programme - full-time (3-year) courses
Education programs
Accounting

Romanian

Language of instructions

$400

Fee for international students

$400

Fee for domestic students
Romanian

Language of instructions

$400

Fee for international students

$400

Fee for domestic students
Romanian

Language of instructions

$400

Fee for international students

$400

Fee for domestic students
Romanian

Language of instructions

$400

Fee for international students

$400

Fee for domestic students
Building and Construction

Romanian

Language of instructions

$400

Fee for international students

$400

Fee for domestic students
Romanian

Language of instructions

$400

Fee for international students

$400

Fee for domestic students
Romanian

Language of instructions

$400

Fee for international students

$400

Fee for domestic students
Romanian

Language of instructions

$400

Fee for international students

$400

Fee for domestic students
Romanian

Language of instructions

$400

Fee for international students

$400

Fee for domestic students

Romanian

Language of instructions

$400

Fee for international students

$400

Fee for domestic students
Romanian

Language of instructions

$400

Fee for international students

$400

Fee for domestic students
Romanian

Language of instructions

$400

Fee for international students

$400

Fee for domestic students
Romanian

Language of instructions

$400

Fee for international students

$400

Fee for domestic students
Romanian

Language of instructions

$400

Fee for international students

$400

Fee for domestic students
Romanian

Language of instructions

$400

Fee for international students

$400

Fee for domestic students
Romanian

Language of instructions

$400

Fee for international students

$400

Fee for domestic students
Romanian

Language of instructions

$400

Fee for international students

$400

Fee for domestic students
How to apply to the university
Complete admissions tasks
To apply to Gheorghe Asachi Technical University follow these steps. To get more information about the university and the admissions process, you can use the live chat to contact a university representative.
Required documents for admission
When applying for admission to Gheorghe Asachi Technical University in Romania you should prepare all required documents. Request a list of necessary documents directly from a university, as it may vary for different countries. Using our live chat, you can also ask for sample documents.
Family Details

Photographs

Proof of fee payment

Declaration for financial support

Medical Certificate

Birth Certificate

TOEFL Certificate

Student visa

Application fee

Health and Life Insurance

Letter of Acceptance

Passport
Why people choose this university
Unique teaching system
High scientific degree
Professional teaching staff
Contacts
Gheorghe Asachi Technical University
Bulevardul Profesor Dimitrie Mangeron 67
Iasi 700050
Romania

Free Apply is not responsible for the content of this page. Through the Site, Free Apply provides an online catalog which you can use to find different types of educational institutions. It's possible for a new university to be registered by any user, however only verified university representatives will be able to manage, reply in chat and make changes to a university page. Once the University registers its official representative, it has the right to block access for others to edit the information. Further control over the content will be carried out by the representative of the University. Registration with the Free-Apply.com catalog is free.
Other Universities on Free-Apply.com