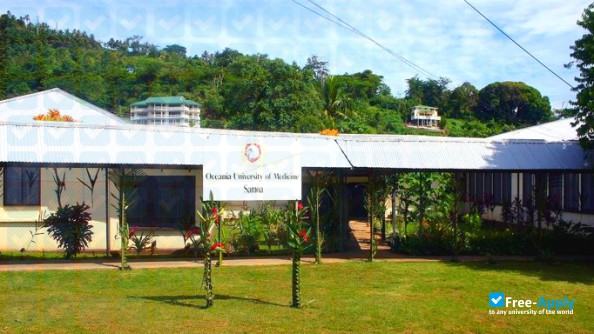 Highly paid professions
Unique teaching system
Ability to work during training
Oceania University of Medicine (OUM) is a public-private, for-profit medical school located in the South Pacific in Oceania. The medical school was founded in 2002 and is located on the island nation of Samoa. Oceania University of Medicine blends distance learning and hands-on clinical rotations to help aspiring physicians overcome distance, personal, and professional barriers to achieve their dream. OUM's MD program is based on a full-scale, rigorous medical school curriculum, which is typically completed in four-and-a-half to five years. Students spend the first half of the program studying basic sciences through a computer-based curriculum delivered by faculty in real-time virtual classrooms and the latter half in hospital-based clinical rotations. OUM students have the best of all worlds – an easy to access, flexible preclinical study program followed by the more traditional clinical rotations arranged in hospitals in a student's community or at OUM-affiliated hospitals and institutions. The OUM program provides a medical education to those who face distance, personal, and professional challenges, especially those individuals who live in remote areas of the world without a medical school nearby. That was the school's original mission on the island nation of Samoa, a mission that has flourished.
Education programs
Medicine

Samoan

Language of instructions

$10,000

Fee for international students

$10,000

Fee for domestic students
How to apply to the university
Complete admissions tasks
To apply to Oceania University of Medicine follow these steps. To get more information about the university and the admissions process, you can use the live chat to contact a university representative.
Required documents for admission
When applying for admission to Oceania University of Medicine in Samoa you should prepare all required documents. Request a list of necessary documents directly from a university, as it may vary for different countries. Using our live chat, you can also ask for sample documents.
Application fee

Resume/CV (graduate, postgraduate)

Health and Life Insurance

Online Application form

Student visa

Passport

Proof of fee payment

Letters of reccomendation (MA, PhD)

Declaration for financial support

Family Details
Why people choose this university
Highly paid professions
Unique teaching system
Ability to work during training
Contacts
Oceania University of Medicine
Apia, Samoa
Apia
Samoa

Free Apply is not responsible for the content of this page. Through the Site, Free Apply provides an online catalog which you can use to find different types of educational institutions. It's possible for a new university to be registered by any user, however only verified university representatives will be able to manage, reply in chat and make changes to a university page. Once the University registers its official representative, it has the right to block access for others to edit the information. Further control over the content will be carried out by the representative of the University. Registration with the Free-Apply.com catalog is free.