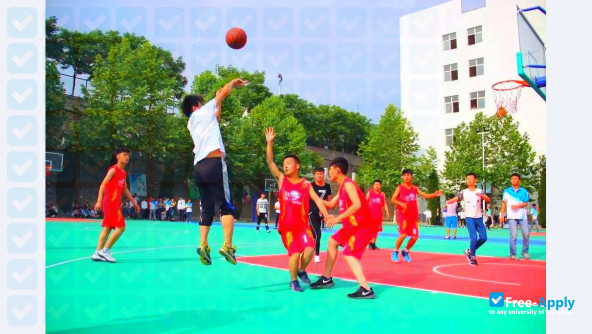 Personal docente profesional
País desarrollado económicamente
Amplia gama de departamentos
Shaanxi Institute of Mechanical and Electrical Technology is the end of November 2015 by the Shaanxi Provincial People's Government approved, in April 2016 by the Ministry of Education for the record, founded by the 1986 state-level key secondary school, the first national reform and development model school - Shaanxi Province Electronics Industry School And Shaanxi Electronic Industry Workers University merged to form a provincial full-time ordinary higher vocational colleges. College in 2003 by the Ministry of Social Affairs and the Ministry of Industry identified as "national electronics and information technology high-skilled personnel training base", in 2004 by the Ministry of Education included in the "national manufacturing and modern service industry skills shortage training training project" implementation of institutions , Shaanxi Province, the Ministry of Education identified as "manufacturing and modern service industry in Shaanxi Province skills shortage training training project" (control technology) demonstration training base, in 2008 led the formation of Shaanxi Electronic Vocational Education Group, 2015 lead the formation of Baoji City of modern equipment manufacturing vocational education group. At the same time, or the national and Shaanxi Province, the first "modern apprenticeship" pilot implementation institutions. College is located in the hometown of Yandi, the western industrial city, the second largest city in Shaanxi Province Baoji City, covers an area of ​​315 acres, with eight well-equipped, fully functional training base and 86 laboratories. 2016 college official website shows that the college has more than 5,000 full-time students in school
Programas de educación
Animaciones

Chino

Lengua de las instrucciones

Tiempo completo

Modo de estudio

1931 US$

Tasa para estudiantes internacionales

1931 US$

Tasa para estudiantes nacionales
Chino

Lengua de las instrucciones

Tiempo completo

Modo de estudio

1931 US$

Tasa para estudiantes internacionales

1931 US$

Tasa para estudiantes nacionales
Ciencias de la Computación

Chino

Lengua de las instrucciones

Tiempo completo

Modo de estudio

1931 US$

Tasa para estudiantes internacionales

1931 US$

Tasa para estudiantes nacionales
Chino

Lengua de las instrucciones

Tiempo completo

Modo de estudio

1931 US$

Tasa para estudiantes internacionales

1931 US$

Tasa para estudiantes nacionales
Chino

Lengua de las instrucciones

Tiempo completo

Modo de estudio

1931 US$

Tasa para estudiantes internacionales

1931 US$

Tasa para estudiantes nacionales
Chino

Lengua de las instrucciones

Tiempo completo

Modo de estudio

1931 US$

Tasa para estudiantes internacionales

1931 US$

Tasa para estudiantes nacionales
Chino

Lengua de las instrucciones

Tiempo completo

Modo de estudio

1931 US$

Tasa para estudiantes internacionales

1931 US$

Tasa para estudiantes nacionales
Chino

Lengua de las instrucciones

Tiempo completo

Modo de estudio

1931 US$

Tasa para estudiantes internacionales

1931 US$

Tasa para estudiantes nacionales
Chino

Lengua de las instrucciones

Tiempo completo

Modo de estudio

1931 US$

Tasa para estudiantes internacionales

1931 US$

Tasa para estudiantes nacionales
Chino

Lengua de las instrucciones

Tiempo completo

Modo de estudio

1931 US$

Tasa para estudiantes internacionales

1931 US$

Tasa para estudiantes nacionales
Chino

Lengua de las instrucciones

Tiempo completo

Modo de estudio

1931 US$

Tasa para estudiantes internacionales

1931 US$

Tasa para estudiantes nacionales
Chino

Lengua de las instrucciones

Tiempo completo

Modo de estudio

1931 US$

Tasa para estudiantes internacionales

1931 US$

Tasa para estudiantes nacionales
How to apply to the university
Complete admissions tasks
To apply to Shaanxi Institute of Mechatronic Technology follow these steps. To get more information about the university and the admissions process, you can use the live chat to contact a university representative.
Required documents for admission
When applying for admission to Shaanxi Institute of Mechatronic Technology in República Popular China you should prepare all required documents. Request a list of necessary documents directly from a university, as it may vary for different countries. Using our live chat, you can also ask for sample documents.
Health and Life Insurance

Passport

Student visa

Research proposal outline (MA, PhD)

TOEFL Certificate

Medical Certificate

Declaration for financial support

Application fee

Resume/CV (graduate, postgraduate)

Online Application form

Proof of fee payment

IELTS Certificate

Photographs
Why people choose this university
Personal docente profesional
País desarrollado económicamente
Amplia gama de departamentos
Contacts
Shaanxi Institute of Mechatronic Technology
No.56, Baofu Road, Baoji City, Shaanxi Province
Guozhen 721001
República Popular China

Free Apply is not responsible for the content of this page. Through the Site, Free Apply provides an online catalog which you can use to find different types of educational institutions. It's possible for a new university to be registered by any user, however only verified university representatives will be able to manage, reply in chat and make changes to a university page. Once the University registers its official representative, it has the right to block access for others to edit the information. Further control over the content will be carried out by the representative of the University. Registration with the Free-Apply.com catalog is free.
Other Universities on Free-Apply.com