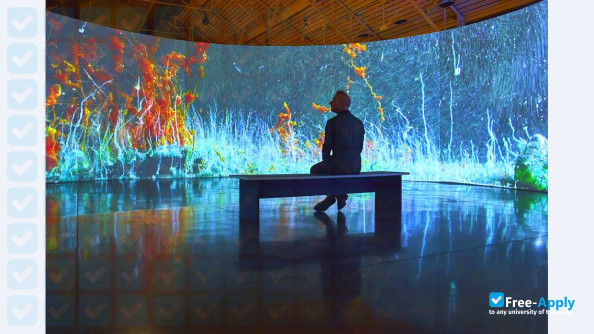 Universidad especializada
Tarifas de matrícula atractivas
Profesiones altamente pagadas
Le Fresnoy - National Studio was a popular entertainment complex with 1000 seats cinema, a swimming pool transformed into a riding school, a roller-skating hall, a dance hall, a brasserie, a games room and a capacity of up to 6000 people. 1905-1984. The rehabilitation project was entrusted to the architect Bernard Tschumi . The project can be summarized by "hangar" of the old buildings with tiled roofs. They are thus integrated and sheltered by a closed parallelepiped on the north side, open for the other three sides, surmounted by a roof of 100 x 80 m with large openings and formed of large canopies covered with plates of transparent polycarbonate in the form of "cloud ". Bernard Tschumi sees project as "a series of boxes in a box. The site has a school, a film set, a multimedia library, cinema and exhibition halls, two cinemas, research and production laboratories (sound, electronic image, film and video) on eight thousand square meters. Premises for administration and catering as well as about ten homes. This complex is able to accommodate a public composed of more than a thousand people who can both visit the exhibition sites and attend the projections. Commercial spaces, including the bookstorming bookshop specialized in contemporary art, are integrated into the project, an underground car park is created as well as a landscaped terrace giving access to a garden by a large external staircase
Programas de educación
Artes

Francés

Lengua de las instrucciones

Tiempo completo

Modo de estudio

831 US$

Tasa para estudiantes internacionales

831 US$

Tasa para estudiantes nacionales
Francés

Lengua de las instrucciones

Tiempo completo

Modo de estudio

831 US$

Tasa para estudiantes internacionales

831 US$

Tasa para estudiantes nacionales
Francés

Lengua de las instrucciones

Tiempo completo

Modo de estudio

831 US$

Tasa para estudiantes internacionales

831 US$

Tasa para estudiantes nacionales
Francés

Lengua de las instrucciones

Tiempo completo

Modo de estudio

831 US$

Tasa para estudiantes internacionales

831 US$

Tasa para estudiantes nacionales
How to apply to the university
Complete admissions tasks
To apply to The Fresnoy National Studio of Contemporary Arts follow these steps. To get more information about the university and the admissions process, you can use the live chat to contact a university representative.
Required documents for admission
When applying for admission to The Fresnoy National Studio of Contemporary Arts in Francia you should prepare all required documents. Request a list of necessary documents directly from a university, as it may vary for different countries. Using our live chat, you can also ask for sample documents.
Photographs

Local Language Certificate

Supervisor Agreement Form (PhD)

Online Application form

Student visa

Passport

Research proposal outline (MA, PhD)

Declaration for financial support

Proof of fee payment

Resume/CV (graduate, postgraduate)

Health and Life Insurance

Motivation Letter
Why people choose this university
Universidad especializada
Tarifas de matrícula atractivas
Profesiones altamente pagadas
Contacts
The Fresnoy National Studio of Contemporary Arts
22 Rue du Fresnoy
Tourcoing 59200
Francia

Free Apply is not responsible for the content of this page. Through the Site, Free Apply provides an online catalog which you can use to find different types of educational institutions. It's possible for a new university to be registered by any user, however only verified university representatives will be able to manage, reply in chat and make changes to a university page. Once the University registers its official representative, it has the right to block access for others to edit the information. Further control over the content will be carried out by the representative of the University. Registration with the Free-Apply.com catalog is free.
Other Universities on Free-Apply.com