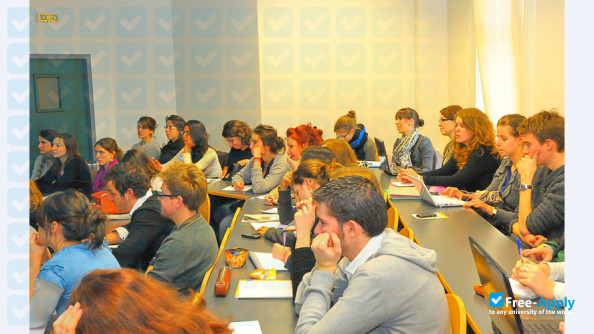 Programas de capacitación avanzada
Los programas incluyen capacitación práctica
Amplia gama de departamentos
The Catholic University of the West (UCO) is one of the oldest universities in the Great West and a major player in higher education and research today. The multi-disciplinary university is open to the world, it offers 9 600 students and many students and listeners on all their sites (Angers Guingamp, Laval, Nantes, Papeete, Reunion, Vannes) in more than 100 containers of course BAC + 8 in their six faculties created: • law, economics, management, law, economics, management, scientific work, human resources management, consulting, management, tourism • Education • Humanities: arts, humanities, languages, history, information and communication • Humanities and social sciences: psychology, sociology • science: biology, ecology, mathematics and computer science, sports science • Theology and Religious Studies
Programas de educación
Ciencias Políticas

Francés

Lengua de las instrucciones

Tiempo completo

Modo de estudio

4100 US$

Tasa para estudiantes internacionales

4100 US$

Tasa para estudiantes nacionales
Francés

Lengua de las instrucciones

Tiempo completo

Modo de estudio

4100 US$

Tasa para estudiantes internacionales

4100 US$

Tasa para estudiantes nacionales
Francés

Lengua de las instrucciones

Tiempo completo

Modo de estudio

4100 US$

Tasa para estudiantes internacionales

4100 US$

Tasa para estudiantes nacionales
Francés

Lengua de las instrucciones

Tiempo completo

Modo de estudio

4100 US$

Tasa para estudiantes internacionales

4100 US$

Tasa para estudiantes nacionales
Francés

Lengua de las instrucciones

Tiempo completo

Modo de estudio

4100 US$

Tasa para estudiantes internacionales

4100 US$

Tasa para estudiantes nacionales

Francés

Lengua de las instrucciones

Tiempo completo

Modo de estudio

4100 US$

Tasa para estudiantes internacionales

4100 US$

Tasa para estudiantes nacionales
Francés

Lengua de las instrucciones

Tiempo completo

Modo de estudio

4100 US$

Tasa para estudiantes internacionales

4100 US$

Tasa para estudiantes nacionales
Francés

Lengua de las instrucciones

Tiempo completo

Modo de estudio

4100 US$

Tasa para estudiantes internacionales

4100 US$

Tasa para estudiantes nacionales
Francés

Lengua de las instrucciones

Tiempo completo

Modo de estudio

4100 US$

Tasa para estudiantes internacionales

4100 US$

Tasa para estudiantes nacionales
Francés

Lengua de las instrucciones

Tiempo completo

Modo de estudio

4100 US$

Tasa para estudiantes internacionales

4100 US$

Tasa para estudiantes nacionales
Francés

Lengua de las instrucciones

Tiempo completo

Modo de estudio

4100 US$

Tasa para estudiantes internacionales

4100 US$

Tasa para estudiantes nacionales
Relaciones Internacionales

Francés

Lengua de las instrucciones

Tiempo completo

Modo de estudio

4100 US$

Tasa para estudiantes internacionales

4100 US$

Tasa para estudiantes nacionales
Francés

Lengua de las instrucciones

Tiempo completo

Modo de estudio

4100 US$

Tasa para estudiantes internacionales

4100 US$

Tasa para estudiantes nacionales
How to apply to the university
Complete admissions tasks
To apply to Catholic University of the West follow these steps. To get more information about the university and the admissions process, you can use the live chat to contact a university representative.
Required documents for admission
When applying for admission to Catholic University of the West in Francia you should prepare all required documents. Request a list of necessary documents directly from a university, as it may vary for different countries. Using our live chat, you can also ask for sample documents.
Proof of fee payment

Motivation Letter

Local Language Certificate

Resume/CV (graduate, postgraduate)

Research proposal outline (MA, PhD)

Health and Life Insurance

Photographs

Passport

Supervisor Agreement Form (PhD)

Student visa

Online Application form

Declaration for financial support
Why people choose this university
Programas de capacitación avanzada
Los programas incluyen capacitación práctica
Amplia gama de departamentos
Contacts
Catholic University of the West
3 place André Leroy BP-10808
Angers 49008
Francia

Free Apply is not responsible for the content of this page. Through the Site, Free Apply provides an online catalog which you can use to find different types of educational institutions. It's possible for a new university to be registered by any user, however only verified university representatives will be able to manage, reply in chat and make changes to a university page. Once the University registers its official representative, it has the right to block access for others to edit the information. Further control over the content will be carried out by the representative of the University. Registration with the Free-Apply.com catalog is free.
Other Universities on Free-Apply.com