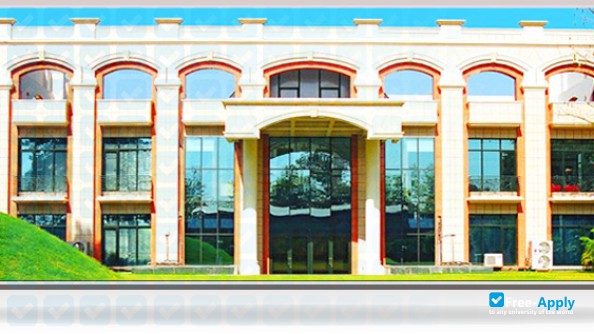 Educación de alta calidad
Universidad especializada
IIPM is a private academically independent, self-financed and autonomous not for profit society registered under the societies act of 1960. The institute is neither affiliated to any university nor has sought de-jure recognition for its academic programmes from any statutory body. The institute is known for designing unique certificate programmes in Planning and Entrepreneurship. The placements IIPM certified students get, the kind of research works it does and its best-selling books that the people love is the tremendous market recognition that IIPM is proud of. Students who are concerned about statutory recognition need not apply for the programme. Students must categorically know that IIPMdoes not teach MBA or BBA programmes (nor does it give any degrees or has given any degrees ever since inception) though IIPM is often ranked in B-School rankings. IIPM is proud of its ranking though it does not participate in any ranking. These rankings are mostly perception based. IIPM teaches its own programmes in entrepreneurship and is an institution for entrepreneurial excellence. Many details in this website might have references from IIPM's 2 year and 3 year programmes in Planning and Entrepreneurship that IIPM used to impart in past, as they form an important part of IIPM history and legacy. IIPM currently certify only One Year Programmes in National Economic Planning and Entrepreneurship that it's faculty members have designed for Planman group initiative IIPM 2.0. The same is reflected in the programme and admissions link in this website. Only details written in the programme link, admissions link or the prospectus of the current year is applicable to students.
Programas de educación
Gestión

Inglés

Lengua de las instrucciones

Tiempo completo

Modo de estudio

1504 US$

Tasa para estudiantes internacionales

1504 US$

Tasa para estudiantes nacionales
Inglés

Lengua de las instrucciones

Tiempo completo

Modo de estudio

1504 US$

Tasa para estudiantes internacionales

1504 US$

Tasa para estudiantes nacionales
How to apply to the university
Complete admissions tasks
To apply to Indian Institute of Planning and Management follow these steps. To get more information about the university and the admissions process, you can use the live chat to contact a university representative.
Required documents for admission
When applying for admission to Indian Institute of Planning and Management in India you should prepare all required documents. Request a list of necessary documents directly from a university, as it may vary for different countries. Using our live chat, you can also ask for sample documents.
Application fee

IELTS Certificate

Scanned copy of signature

TOEFL Certificate

Photographs

Medical Certificate

Declaration for financial support

Health and Life Insurance

Passport

Student visa

Birth Certificate

Proof of fee payment

Online Application form

Family Details
Why people choose this university
Educación de alta calidad
Universidad especializada
Contacts
Indian Institute of Planning and Management
New Delhi 110016, IIPM New Delhi Tower II, The Indian Institute of Planning & Management, IIPM, Tower, B-27, Qutab Institutional, India
Delhi
India

Free Apply is not responsible for the content of this page. Through the Site, Free Apply provides an online catalog which you can use to find different types of educational institutions. It's possible for a new university to be registered by any user, however only verified university representatives will be able to manage, reply in chat and make changes to a university page. Once the University registers its official representative, it has the right to block access for others to edit the information. Further control over the content will be carried out by the representative of the University. Registration with the Free-Apply.com catalog is free.
Other Universities on Free-Apply.com