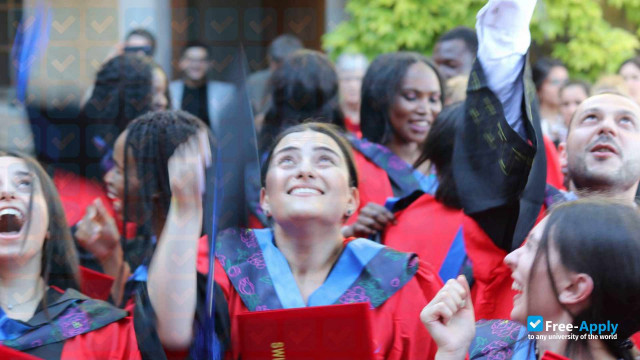 Tarifas de matrícula atractivas
Comunicación con hablantes nativos
Profesiones altamente pagadas
6 más beneficios
Founded in April 1984 by Professor Marc François Maret, SWISS UMEF UNIVERSITY (UMEF), formerly known as ISGC (Institut Supérieur de Gestion et Communication) is a private university. UMEF has a long track record of training a large body of students who originated from all continents and who have had, since graduation, highly successful careers. Furthermore, UMEF has strongly supported its alumni to assist them in developing outstanding careers or to be highly successful actors in their chosen fields. UMEF operates campuses in three continents – Europe, Africa, and Asia – and its contribution to the development of the citizens of these countries have been recognized with prizes and appreciations in several countries. UMEF strictly applies the Bologna system, and it is accredited by IACBE, EduQua, and ASIC. It is also a member of several other accreditation bodies. UMEF has decided to be in historic continuity of Europe's outstanding university background and, thus, its campus is located in a 15th-century castle in Geneva.
Programas de educación
Negocio

Inglés

Lengua de las instrucciones

Tiempo completo

Modo de estudio

22.772 US$

Tasa para estudiantes internacionales

16.234 US$

Tasa para estudiantes nacionales
How to apply to the university
Complete admissions tasks
To apply to Swiss UMEF University follow these steps. To get more information about the university and the admissions process, you can use the live chat to contact a university representative.
Why people choose this university
Tarifas de matrícula atractivas
Comunicación con hablantes nativos
Profesiones altamente pagadas
Personal docente profesional
Programas de intercambio internacional
Cooperación internacional
Ubicado en una ciudad prometedora
Una gran cantidad de estudiantes extranjeros
Universidad especializada
Contacts
Swiss UMEF University
Route d'Aïre 185-187
Ginebra 1219 Aïre
Suiza

Free Apply is not responsible for the content of this page. Through the Site, Free Apply provides an online catalog which you can use to find different types of educational institutions. It's possible for a new university to be registered by any user, however only verified university representatives will be able to manage, reply in chat and make changes to a university page. Once the University registers its official representative, it has the right to block access for others to edit the information. Further control over the content will be carried out by the representative of the University. Registration with the Free-Apply.com catalog is free.
Other Universities on Free-Apply.com