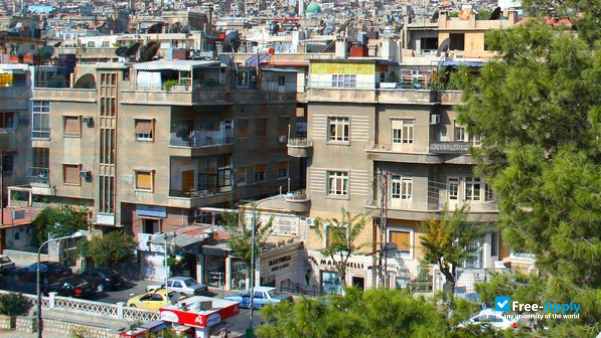 Personal docente profesional
Tarifas de matrícula atractivas
Universidad especializada
The French Institute of the Near East was born 1 st January 2003The grouping of the French Institute of Arab Studies in Damascus (Ifead, founded in 1922), the French Institute of Archeology in the Near East (Ifapo, 1946, Syria, Lebanon and Jordan) studies and research on the contemporary Middle East (CERMOC, 1977 Lebanon and 1988, Jordan) 1 . Its status is that of a joint unit of the French Research Institutes Abroad (UMIFRE No. 6), under the responsibility of the French Ministry of Foreign Affairs and the CNRS (USR, Service and Research Unit No. 3135 )
Programas de educación
Culturología

Arábica

Lengua de las instrucciones

Tiempo completo

Modo de estudio

1000 US$

Tasa para estudiantes internacionales

1000 US$

Tasa para estudiantes nacionales
Arábica

Lengua de las instrucciones

Tiempo completo

Modo de estudio

1000 US$

Tasa para estudiantes internacionales

1000 US$

Tasa para estudiantes nacionales
How to apply to the university
Complete admissions tasks
To apply to French Institute of the Near East Damascus follow these steps. To get more information about the university and the admissions process, you can use the live chat to contact a university representative.
Required documents for admission
When applying for admission to French Institute of the Near East Damascus in Siria you should prepare all required documents. Request a list of necessary documents directly from a university, as it may vary for different countries. Using our live chat, you can also ask for sample documents.
IELTS Certificate

Passport

Online Application form

TOEFL Certificate
Why people choose this university
Personal docente profesional
Tarifas de matrícula atractivas
Universidad especializada
Contacts
French Institute of the Near East Damascus
Institut français du Proche-Orient Abou Roumaneh, POB 344 Damascus, Syria
Damasco
Siria

Free Apply is not responsible for the content of this page. Through the Site, Free Apply provides an online catalog which you can use to find different types of educational institutions. It's possible for a new university to be registered by any user, however only verified university representatives will be able to manage, reply in chat and make changes to a university page. Once the University registers its official representative, it has the right to block access for others to edit the information. Further control over the content will be carried out by the representative of the University. Registration with the Free-Apply.com catalog is free.
Other Universities on Free-Apply.com