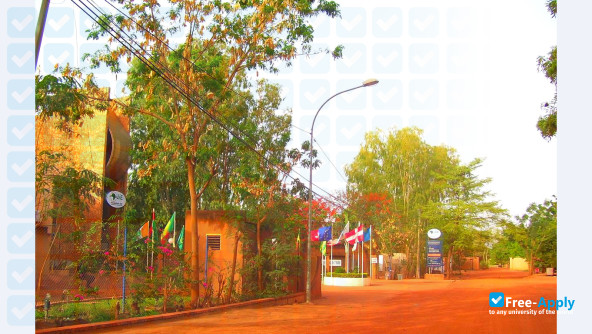 Programas de intercambio internacional
Programas de pasantías en el extranjero
Capacidad para trabajar durante la capacitación
Créée le 1er Avril 1974 avec seulement 374 étudiants, l'Université de Ouagadougou en compte aujourd'hui plus de 35 000. Une évolution certes rapide, mais marquée par la quête permanente d'un enseignement de qualité. Cette marche positive a pour conséquence de classer notre institution universitaire parmi les meilleures de l'Afrique francophone au Sud du Sahara. Après la refondation de l'université en 2000, les restructurations et remaniements entrepris ont permis à notre université d'assumer pleinement (...) Organigramme Les organes délibérants sont : le Conseil d'administration élargi ; le Conseil de la Formation et de la Vie universitaire impliquant la participation de la société civile ; le Conseil scientifique élargi aux structures de recherche non nationales. 1- Conseil d'Administration de l'Université de Ouagadougou Le Conseil d'Administration assure la haute responsabilité de l'administration de l'université. Il est obligatoirement saisi de toutes les questions pouvant influencer la marche générale de (...)
Programas de educación
Artes

Francés

Lengua de las instrucciones

Tiempo completo

Modo de estudio

0 US$

Tasa para estudiantes internacionales

0 US$

Tasa para estudiantes nacionales
Francés

Lengua de las instrucciones

Tiempo completo

Modo de estudio

0 US$

Tasa para estudiantes internacionales

0 US$

Tasa para estudiantes nacionales
Francés

Lengua de las instrucciones

Tiempo completo

Modo de estudio

0 US$

Tasa para estudiantes internacionales

0 US$

Tasa para estudiantes nacionales
Francés

Lengua de las instrucciones

Tiempo completo

Modo de estudio

0 US$

Tasa para estudiantes internacionales

0 US$

Tasa para estudiantes nacionales
Francés

Lengua de las instrucciones

Tiempo completo

Modo de estudio

0 US$

Tasa para estudiantes internacionales

0 US$

Tasa para estudiantes nacionales
Francés

Lengua de las instrucciones

Tiempo completo

Modo de estudio

0 US$

Tasa para estudiantes internacionales

0 US$

Tasa para estudiantes nacionales
How to apply to the university
Complete admissions tasks
To apply to Université de Ouagadougou follow these steps. To get more information about the university and the admissions process, you can use the live chat to contact a university representative.
Required documents for admission
When applying for admission to Université de Ouagadougou in Burkina Faso you should prepare all required documents. Request a list of necessary documents directly from a university, as it may vary for different countries. Using our live chat, you can also ask for sample documents.
Online Application form

Passport

IELTS Certificate

TOEFL Certificate
Why people choose this university
Programas de intercambio internacional
Programas de pasantías en el extranjero
Capacidad para trabajar durante la capacitación
Contacts
Université de Ouagadougou
12 BP 417 Ouagadougou 12 Burkina Faso
Uagadugú
Burkina Faso

Free Apply is not responsible for the content of this page. Through the Site, Free Apply provides an online catalog which you can use to find different types of educational institutions. It's possible for a new university to be registered by any user, however only verified university representatives will be able to manage, reply in chat and make changes to a university page. Once the University registers its official representative, it has the right to block access for others to edit the information. Further control over the content will be carried out by the representative of the University. Registration with the Free-Apply.com catalog is free.
Other Universities on Free-Apply.com