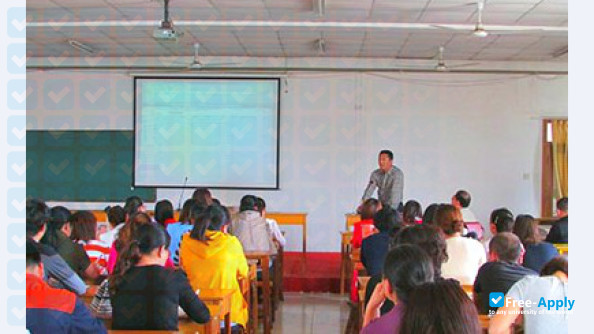 Many years of training experience
Programs include practical training
Specialized university
Baoding Radio and Television University was founded in February 1979, is a use of modern information technology, for the city to carry out modern long-distance open education of municipal institutions of higher learning. After nearly 40 years of development, has been formed to the main city of electricity as the center, 21 counties (cities, districts) based on electricity, Skynet, network, network integration, functional integrity of the modern long-distance higher education network. The school covers an area of ​​25,000 square meters, construction area of ​​28,000 square meters, of which 4,000 square meters of student apartments, fixed assets of about 250 million yuan. The existing staff of 139 people, of which 47 were in vocational, 56 in the post, now set up law, economics, medicine, architecture and other 10 categories of 146 professional. Baoding City is the talent training base, Baoding City civil service interview base. Accumulated training college graduates more than 12 people, non-academic training more than 40 million people, to promote economic and social development Baoding important force.
Education programs
Marketing

Chinese

Language of instructions

$641

Fee for international students

$641

Fee for domestic students
Chinese

Language of instructions

$641

Fee for international students

$641

Fee for domestic students
Chinese

Language of instructions

$641

Fee for international students

$641

Fee for domestic students
How to apply to the university
Complete admissions tasks
To apply to Baoding Radio and Television University follow these steps. To get more information about the university and the admissions process, you can use the live chat to contact a university representative.
Required documents for admission
When applying for admission to Baoding Radio and Television University in China you should prepare all required documents. Request a list of necessary documents directly from a university, as it may vary for different countries. Using our live chat, you can also ask for sample documents.
IELTS Certificate

Declaration for financial support

Student visa

Online Application form

Application fee

Resume/CV (graduate, postgraduate)

Proof of fee payment

Photographs

TOEFL Certificate

Research proposal outline (MA, PhD)

Medical Certificate

Health and Life Insurance

Passport
Why people choose this university
Many years of training experience
Programs include practical training
Specialized university
Contacts
Baoding Radio and Television University
East Road 999
Baoding 071051
China

Free Apply is not responsible for the content of this page. Through the Site, Free Apply provides an online catalog which you can use to find different types of educational institutions. It's possible for a new university to be registered by any user, however only verified university representatives will be able to manage, reply in chat and make changes to a university page. Once the University registers its official representative, it has the right to block access for others to edit the information. Further control over the content will be carried out by the representative of the University. Registration with the Free-Apply.com catalog is free.
Other Universities on Free-Apply.com