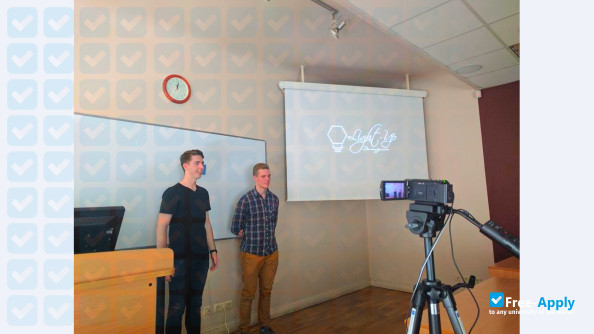 Programs in demand
International team
International cooperation
6 more benefits
RBS was the first higher education institution in the Baltics to offer MBA programs in English, granting its graduates an internationally recognized Masters of Business Administration degree. Since 2012, Riga Business School has been offering a Bachelor of Management in International Business program in collaboration with BI Norwegian Business School and University at Buffalo, USA. In 2019, RBS and the leading universities in Latvia – Riga Technical University (RTU) and the University of Latvia (LU), in cooperation with the State University of New York University at Buffalo (USA) have launched a new interdisciplinary program of excellence "Baltic IT Leadership" (BITL). The school has a solid reputation and more than 1015 MBA graduates, the majority of who occupy leading managerial positions both in Latvia and abroad. RBS is the only school in the Baltics offering North-American style MBA both in teaching standards and structure, containing intensive case studies, group work and active classroom involvement over at least two years of studies. Strong commitment to high quality, the principles of North American MBA programs and all courses presented in English make RBS distinctive in Latvia and beyond.
Education programs
Administration

English

Language of instructions

$6,915

Fee for international students

$4,475

Fee for domestic students
English

Language of instructions

$7,385

Fee for international students

$4,475

Fee for domestic students
English

Language of instructions

$6,915

Fee for international students

$4,475

Fee for domestic students
English

Language of instructions

$7,385

Fee for international students

$4,475

Fee for domestic students
International students friendly
International admissions apply to those who are not Latvian citizens and/or do not hold a residence permit. We know that once you decide to study at RBS, you will have many questions and concerns. We are sure that the less you have to worry about, the better you will feel and the more you will get out of your education. Therefore, we will be happy to help you to navigate immigration, excel in your courses and get settled into the social scene at RBS and Riga, Latvia!
Accommodation
All international students can be accommodated in the modern, conveniently located student residence hall. Students will receive information about the housing application once admitted. RTU RBS offers accommodation on condition that you have already registered or will be registered as a student at RTU RBS at the beginning of the Accommodation Period and remain registered student throughout the Accommodation Period.
Scholarships
RTU Riga Business School provides some form of financial assistance, including academic and talent scholarships as well as need-based grants, loans, employment and internship opportunities. Remember! If you want to apply for scholarships provided by companies from the finance and IT industry, your application must be submitted by April 9, 2020.
How to apply to the university
Complete admissions tasks
To apply to Riga Business School at Riga Technical University follow these steps. To get more information about the university and the admissions process, you can use the live chat to contact a university representative.
Required documents for admission
When applying for admission to Riga Business School at Riga Technical University in Latvia you should prepare all required documents. Request a list of necessary documents directly from a university, as it may vary for different countries. Using our live chat, you can also ask for sample documents.
Health and Life Insurance

Passport

IELTS Certificate

Family Details

Proof of fee payment

Student visa

Application fee
Why people choose this university
Programs in demand
International team
International cooperation
Cooperation with prospective employers
Many years of training experience
Located in a promising city
Specialized university
A popular university
Care for international students
Contacts
Riga Business School at Riga Technical University
Skolas iela 11, Centra rajons
Riga 1010
Latvia

Free Apply is not responsible for the content of this page. Through the Site, Free Apply provides an online catalog which you can use to find different types of educational institutions. It's possible for a new university to be registered by any user, however only verified university representatives will be able to manage, reply in chat and make changes to a university page. Once the University registers its official representative, it has the right to block access for others to edit the information. Further control over the content will be carried out by the representative of the University. Registration with the Free-Apply.com catalog is free.
Other Universities on Free-Apply.com