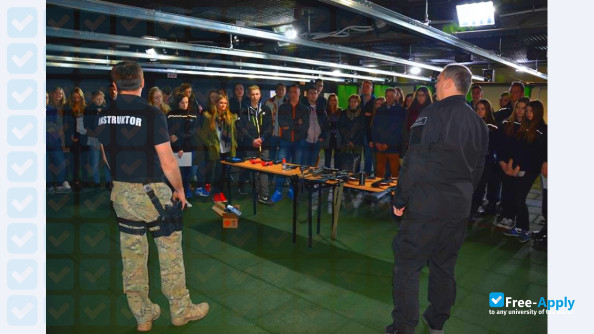 Specialized university
Top of the best universities
International cooperation
The Police Academy in Szczytno is an organisational unit of the Police within the meaning of the act of 6 April 1990 – Police Act (i.e. Journal of Laws of 2016, item 1782 with later amendments). Additionally, under the act of 27 July 2005 – Higher Education Law (i.e. Journal of Laws of 2016, item 1842 with later amendments) is an institution of the state services (Art. 252, section 5), i.e. a public institution supervised by the minister of internal affairs (Art. 2, section 1, point 25), having legal entity. The mission of the Academy is to uncover, convey and promote the truth about social sciences, in particular, the science of public order and safety through carrying out research and training academic staff members, students, police officers and course participants. The Police Academy in Szczytno is part of the Polish police education system. It performs a significant role in training police executive and commanding staff. The Academy is headed by the Commandant-Rector, who has a representative function and who directly supervises such administrative units as the Rector's Office, Personnel Department, Control Unit and Legal Assistance Unit. The Deputy Commandant Pro-rector exercises direct control over the Command Unit and the Department of Professional Development and Training Management. The Chancellor is responsible for financial affairs. The Police Academy offers two fields of studies: the Faculty of Administration and Internal Security, both of which are headed by a Dean.
Education programs
Administration

Polish

Language of instructions

$1,716

Fee for international students

$1,716

Fee for domestic students
Polish

Language of instructions

$1,716

Fee for international students

$1,716

Fee for domestic students
How to apply to the university
Complete admissions tasks
To apply to Higher School of Police in Szczytno follow these steps. To get more information about the university and the admissions process, you can use the live chat to contact a university representative.
Required documents for admission
When applying for admission to Higher School of Police in Szczytno in Poland you should prepare all required documents. Request a list of necessary documents directly from a university, as it may vary for different countries. Using our live chat, you can also ask for sample documents.
Letters of reccomendation (MA, PhD)

Health and Life Insurance

IELTS Certificate

TOEFL Certificate

Photographs

Student visa

Medical Certificate

Declaration for financial support

Application fee

Research proposal outline (MA, PhD)

Family Details

Supervisor Agreement Form (PhD)

Online Application form

Motivation Letter

Proof of fee payment

Passport
Why people choose this university
Specialized university
Top of the best universities
International cooperation
Contacts
Higher School of Police in Szczytno
ul. Marszałka Józefa Piłsudskiego 111
Szczytno 12-100
Poland

Free Apply is not responsible for the content of this page. Through the Site, Free Apply provides an online catalog which you can use to find different types of educational institutions. It's possible for a new university to be registered by any user, however only verified university representatives will be able to manage, reply in chat and make changes to a university page. Once the University registers its official representative, it has the right to block access for others to edit the information. Further control over the content will be carried out by the representative of the University. Registration with the Free-Apply.com catalog is free.
Other Universities on Free-Apply.com