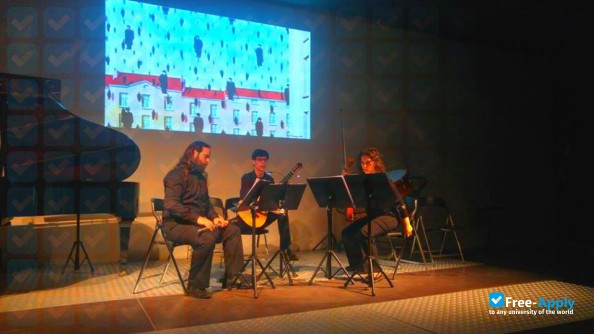 International exchange programs
Practicing teaching staff
Programs include practical training
On behalf of the management team have the pleasure to give you the warmest welcome to the website of the Conservatory of Music "Joaquín Rodrigo" in Valencia, a center with over 130 years of existence and long tradition in higher musical education. Since its creation, with the auspices of the Sociedad Económica de Amigos del País in 1879 to the Conservatory of Music in Valencia has been one of the centers Deans, assuming a model of teaching arts in Spain and authentic leader in arts education and Spanish music. So there are many personalities of the music throughout history were formed in our center or were teachers of the same, and are also countless alumni nourish orchestras and bands professionals, both nationally and internationally -divulgant the name of the conservatory for the best concert halls in the world and teachers are countless conservatories throughout Spain. Our educational offer which responds to the demands of the European Higher Education, as part of the Higher Institute of Artistic Teachings of Valencia (ISEACV) - offers the opportunity to pursue higher music all specialties instrumental, vocal and theoretical, with different options: Interpretation, Research, Creation, Sonology, Education and Jazz. It also provides the option of postgraduate studies in the Master of Arts Education and Research in Music Performance Performing Arts and Master of Education in operatic interpretation.
Education programs
Arts

Spanish

Language of instructions

$2,092

Fee for international students

$2,092

Fee for domestic students
Spanish

Language of instructions

$2,092

Fee for international students

$2,092

Fee for domestic students
How to apply to the university
Complete admissions tasks
To apply to Conservatory of Music of Valencia follow these steps. To get more information about the university and the admissions process, you can use the live chat to contact a university representative.
Required documents for admission
When applying for admission to Conservatory of Music of Valencia in Spain you should prepare all required documents. Request a list of necessary documents directly from a university, as it may vary for different countries. Using our live chat, you can also ask for sample documents.
Online Application form

Passport

Health and Life Insurance

Photographs

Proof of fee payment

Student visa

Application fee

Research proposal outline (MA, PhD)

Supervisor Agreement Form (PhD)
Why people choose this university
International exchange programs
Practicing teaching staff
Programs include practical training
Contacts
Conservatory of Music of Valencia
C/ Cineasta Ricardo Muñoz Suay, s/n.
Valencia 46013
Spain

Free Apply is not responsible for the content of this page. Through the Site, Free Apply provides an online catalog which you can use to find different types of educational institutions. It's possible for a new university to be registered by any user, however only verified university representatives will be able to manage, reply in chat and make changes to a university page. Once the University registers its official representative, it has the right to block access for others to edit the information. Further control over the content will be carried out by the representative of the University. Registration with the Free-Apply.com catalog is free.
Other Universities on Free-Apply.com