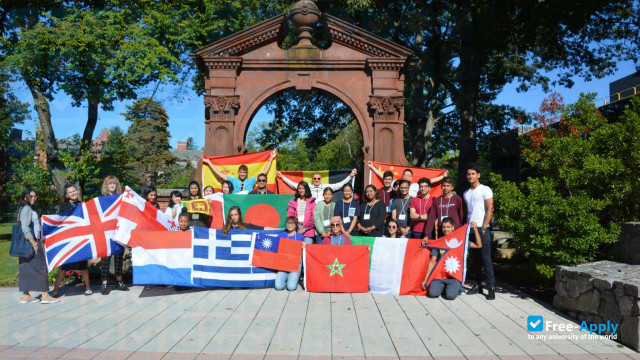 Modern campus
Participation in scientific research
Communication with native speakers
7 more benefits
As the state's premier public liberal arts college, Ramapo College of New Jersey is dedicated to providing students a strong foundation for a lifetime of achievement. Established in 1969, Ramapo College offers bachelor's degrees in the arts, business, humanities, social sciences and the sciences, as well as in professional studies, which include business, elementary education, nursing and social work. The college is located in Mahwah, New Jersey, United States, near the Ramapo Mountains. Ramapo College is located about 30 miles away from New York City, and has over 1000 internship opportunities available in New Jersey and New York City. Our student to faculty ratio is 16:1 and our average class size is 21 students. Ramapo College has over 150 clubs and organizations and over 18 NCAA Division III sports. Apply Now! https://www.ramapo.edu/admissions/apply/
Education programs
English

Language of instructions

$24,836

Fee for international students

$15,056

Fee for domestic students
English

Language of instructions

$24,836

Fee for international students

$15,056

Fee for domestic students
English

Language of instructions

$24,836

Fee for international students

$15,056

Fee for domestic students
English

Language of instructions

$24,836

Fee for international students

$15,056

Fee for domestic students
English

Language of instructions

$24,836

Fee for international students

$15,056

Fee for domestic students
English

Language of instructions

$24,836

Fee for international students

$15,056

Fee for domestic students
English

Language of instructions

$24,836

Fee for international students

$15,056

Fee for domestic students

English

Language of instructions

$24,836

Fee for international students

$15,056

Fee for domestic students
English

Language of instructions

$24,836

Fee for international students

$15,056

Fee for domestic students
English

Language of instructions

$24,836

Fee for international students

$15,056

Fee for domestic students
International students friendly
Ramapo College of New Jersey welcomes applications from International Students seeking an F1 student visa. Students from more than 40 countries are currently attending Ramapo College. In 2019, Ramapo received applications from students in 34 different countries. For information about admission requirements, please visit this link https://www.ramapo.edu/undergraduate/international/admission-requirements/
Student visa
If you are admitted to the College, you will be notified in writing and sent a Form I-20 (Certificate of Eligibility for Non-Immigrant "F-1″ Student Status) along with your original financial documentation. If you are living abroad, you must present these papers to the visa officer at the American Embassy when you apply for your F-1student visa.
Accommodation
Living on campus provides you with the true college experience and a lifetime of memories. Explore the campus and take a tour of the Residence Halls to see for yourselves what amazing resources we have to offer. Housing at Ramapo College offers students convenient, modern amenities. For more information about housing and take a tour of the residence halls, visit this link https://www.ramapo.edu/reslife/residences/
Scholarships
Ramapo College automatically considers all first-year (freshmen) applicants for a merit-based scholarship. First-year applicants are considered for merit-based scholarships based on academic performance and their potential to become active members of our community. All aspects of a student's application are considered including extra-curricular activities, but limited funding and a large number of applications makes our scholarship awards highly competitive.
How to apply to the university
Complete admissions tasks
To apply to Ramapo College of New Jersey follow these steps. To get more information about the university and the admissions process, you can use the live chat to contact a university representative.
Required documents for admission
When applying for admission to Ramapo College of New Jersey in United States you should prepare all required documents. Request a list of necessary documents directly from a university, as it may vary for different countries. Using our live chat, you can also ask for sample documents.
Online Application form

1 Letter of Recommendation

TOEFL or IELTS Score

High School Transcript

Application fee
Why people choose this university
Modern campus
Participation in scientific research
Communication with native speakers
Economically developed country
Accredited university
Programs in demand
A comfortable learning environment
Scholarship programs
Attractive tuition fees
High-quality education
Contacts
Ramapo College of New Jersey
505 Ramapo Valley Rd
Mahwah 07430
United States

Free Apply is not responsible for the content of this page. Through the Site, Free Apply provides an online catalog which you can use to find different types of educational institutions. It's possible for a new university to be registered by any user, however only verified university representatives will be able to manage, reply in chat and make changes to a university page. Once the University registers its official representative, it has the right to block access for others to edit the information. Further control over the content will be carried out by the representative of the University. Registration with the Free-Apply.com catalog is free.
Other Universities on Free-Apply.com