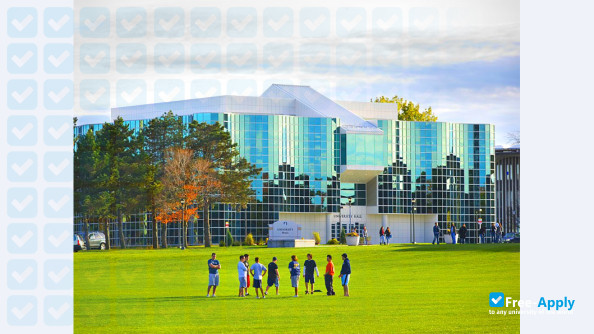 Located in a large city
High scientific degree
Economically developed country
The State University of New York (SUNY) is a system of public institutions of higher education in New York, United States. It is one of the largest comprehensive systems of universities, colleges, and community colleges in the United States,with a total enrollment of 465,000 students, plus 1.1 million adult education students, spanning 64 campuses across the state. Led by Chancellor Nancy L. Zimpher, the SUNY system has 88,000 faculty members and some 7,660 degree and certificate programs overall and a $10.7 billion budget. SUNY includes many institutions and four University Centers: Albany (1844), Buffalo (1846), Binghamton (1946), and Stony Brook (1957). SUNY's administrative offices are in Albany, the state's capital, with satellite offices in Manhattan and Washington, D.C. SUNY's largest campus is the University at Buffalo,which also has the greatest endowment and research funding
Education programs
Accounting

English

Language of instructions

$4,370

Fee for international students

$4,370

Fee for domestic students
English

Language of instructions

$4,370

Fee for international students

$4,370

Fee for domestic students
English

Language of instructions

$4,370

Fee for international students

$4,370

Fee for domestic students
Applied Sciences and Professions

English

Language of instructions

$4,370

Fee for international students

$4,370

Fee for domestic students
English

Language of instructions

$4,370

Fee for international students

$4,370

Fee for domestic students
English

Language of instructions

$4,370

Fee for international students

$4,370

Fee for domestic students
English

Language of instructions

$4,370

Fee for international students

$4,370

Fee for domestic students
English

Language of instructions

$4,370

Fee for international students

$4,370

Fee for domestic students
English

Language of instructions

$4,370

Fee for international students

$4,370

Fee for domestic students
English

Language of instructions

$4,370

Fee for international students

$4,370

Fee for domestic students
English

Language of instructions

$4,370

Fee for international students

$4,370

Fee for domestic students
English

Language of instructions

$4,370

Fee for international students

$4,370

Fee for domestic students
English

Language of instructions

$4,370

Fee for international students

$4,370

Fee for domestic students
English

Language of instructions

$4,370

Fee for international students

$4,370

Fee for domestic students
English

Language of instructions

$4,370

Fee for international students

$4,370

Fee for domestic students
English

Language of instructions

$4,370

Fee for international students

$4,370

Fee for domestic students
English

Language of instructions

$4,370

Fee for international students

$4,370

Fee for domestic students
English

Language of instructions

$4,370

Fee for international students

$4,370

Fee for domestic students
English

Language of instructions

$4,370

Fee for international students

$4,370

Fee for domestic students
English

Language of instructions

$4,370

Fee for international students

$4,370

Fee for domestic students
English

Language of instructions

$4,370

Fee for international students

$4,370

Fee for domestic students
English

Language of instructions

$4,370

Fee for international students

$4,370

Fee for domestic students
English

Language of instructions

$4,370

Fee for international students

$4,370

Fee for domestic students
English

Language of instructions

$4,370

Fee for international students

$4,370

Fee for domestic students
English

Language of instructions

$4,370

Fee for international students

$4,370

Fee for domestic students
English

Language of instructions

$4,370

Fee for international students

$4,370

Fee for domestic students
English

Language of instructions

$4,370

Fee for international students

$4,370

Fee for domestic students
English

Language of instructions

$4,370

Fee for international students

$4,370

Fee for domestic students
English

Language of instructions

$4,370

Fee for international students

$4,370

Fee for domestic students
English

Language of instructions

$4,370

Fee for international students

$4,370

Fee for domestic students
English

Language of instructions

$4,370

Fee for international students

$4,370

Fee for domestic students
English

Language of instructions

$4,370

Fee for international students

$4,370

Fee for domestic students
English

Language of instructions

$4,370

Fee for international students

$4,370

Fee for domestic students
English

Language of instructions

$4,370

Fee for international students

$4,370

Fee for domestic students
English

Language of instructions

$4,370

Fee for international students

$4,370

Fee for domestic students
English

Language of instructions

$4,370

Fee for international students

$4,370

Fee for domestic students
English

Language of instructions

$4,370

Fee for international students

$4,370

Fee for domestic students
English

Language of instructions

$4,370

Fee for international students

$4,370

Fee for domestic students
English

Language of instructions

$4,370

Fee for international students

$4,370

Fee for domestic students
English

Language of instructions

$4,370

Fee for international students

$4,370

Fee for domestic students
English

Language of instructions

$4,370

Fee for international students

$4,370

Fee for domestic students
English

Language of instructions

$4,370

Fee for international students

$4,370

Fee for domestic students
English

Language of instructions

$4,370

Fee for international students

$4,370

Fee for domestic students
English

Language of instructions

$4,370

Fee for international students

$4,370

Fee for domestic students
English

Language of instructions

$4,370

Fee for international students

$4,370

Fee for domestic students
English

Language of instructions

$4,370

Fee for international students

$4,370

Fee for domestic students
English

Language of instructions

$4,370

Fee for international students

$4,370

Fee for domestic students
English

Language of instructions

$4,370

Fee for international students

$4,370

Fee for domestic students
English

Language of instructions

$4,370

Fee for international students

$4,370

Fee for domestic students
English

Language of instructions

$4,370

Fee for international students

$4,370

Fee for domestic students
English

Language of instructions

$4,370

Fee for international students

$4,370

Fee for domestic students
English

Language of instructions

$4,370

Fee for international students

$4,370

Fee for domestic students
English

Language of instructions

$4,370

Fee for international students

$4,370

Fee for domestic students
English

Language of instructions

$4,370

Fee for international students

$4,370

Fee for domestic students
English

Language of instructions

$4,370

Fee for international students

$4,370

Fee for domestic students
English

Language of instructions

$4,370

Fee for international students

$4,370

Fee for domestic students
How to apply to the university
Complete admissions tasks
To apply to State University of New York follow these steps. To get more information about the university and the admissions process, you can use the live chat to contact a university representative.
Required documents for admission
When applying for admission to State University of New York in United States you should prepare all required documents. Request a list of necessary documents directly from a university, as it may vary for different countries. Using our live chat, you can also ask for sample documents.
Letters of reccomendation (MA, PhD)

Research proposal outline (MA, PhD)

Passport

Application fee

Declaration for financial support

Proof of fee payment

TOEFL Certificate

Online Application form

Family Details

Photographs

Student visa

World Education Services evaluation

Motivation Letter

Letters of reccomendation (for undergraduate)

Health and Life Insurance
Why people choose this university
Located in a large city
High scientific degree
Economically developed country
Contacts
State University of New York
Plaza 353 Broadway
Albany NY 12246
United States

Free Apply is not responsible for the content of this page. Through the Site, Free Apply provides an online catalog which you can use to find different types of educational institutions. It's possible for a new university to be registered by any user, however only verified university representatives will be able to manage, reply in chat and make changes to a university page. Once the University registers its official representative, it has the right to block access for others to edit the information. Further control over the content will be carried out by the representative of the University. Registration with the Free-Apply.com catalog is free.
Other Universities on Free-Apply.com