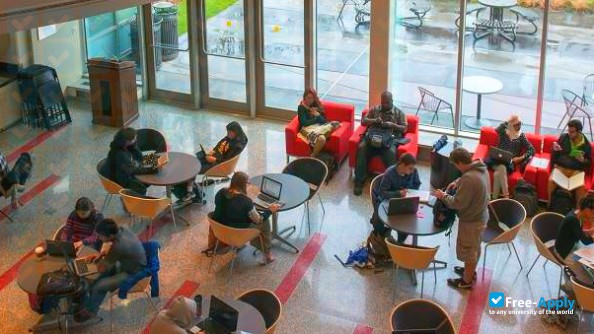 Attractive tuition fees
Wide range of departments
The University of Maryland, Baltimore County[5] (often referred to as UMBC) is an American public research university, located in Baltimore County, Maryland, United States, mostly in the community of Catonsville, approximately 10 minutes (8.3 miles) from downtown Baltimore City, 9 minutes (6.1 miles) from Baltimore–Washington International Airport (BWI). With a fall 2016 enrollment of 13,640 students, 48 undergraduate majors, over 60 graduate programs (36 master, 24 doctoral, and 17 graduate certificate programs) and the first university research park in Maryland,[6] UMBC has been named the #1 Up-and-Coming University for six years in a row, since 2009, by US News & World Report In addition, US News & World Report has placed UMBC in the top ten for best undergraduate teaching six years in a row, being placed at #5, the second highest-ranked public university not in citation given] Established as a part of the University of Maryland System in 1966, the university became the first public collegiate institution in Maryland to be inclusive to all races. UMBC has the fourth highest enrollment of the University System of Maryland, specializing in natural sciences and engineering, as well as programs in the liberal arts and social sciences.[8] Athletically, the UMBC Retrievers have 19 NCAA Division I teams that participate in the America East Conference.[
Education programs
Accounting

English

Language of instructions

$11,006

Fee for international students

$11,006

Fee for domestic students
English

Language of instructions

$11,006

Fee for international students

$11,006

Fee for domestic students
Applied Sciences and Professions

English

Language of instructions

$11,006

Fee for international students

$11,006

Fee for domestic students
English

Language of instructions

$11,006

Fee for international students

$11,006

Fee for domestic students
English

Language of instructions

$11,006

Fee for international students

$11,006

Fee for domestic students
English

Language of instructions

$11,006

Fee for international students

$11,006

Fee for domestic students
English

Language of instructions

$11,006

Fee for international students

$11,006

Fee for domestic students
English

Language of instructions

$11,006

Fee for international students

$11,006

Fee for domestic students
English

Language of instructions

$11,006

Fee for international students

$11,006

Fee for domestic students
English

Language of instructions

$11,006

Fee for international students

$11,006

Fee for domestic students
English

Language of instructions

$11,006

Fee for international students

$11,006

Fee for domestic students
English

Language of instructions

$11,006

Fee for international students

$11,006

Fee for domestic students
English

Language of instructions

$11,006

Fee for international students

$11,006

Fee for domestic students
English

Language of instructions

$11,006

Fee for international students

$11,006

Fee for domestic students
English

Language of instructions

$11,006

Fee for international students

$11,006

Fee for domestic students
English

Language of instructions

$11,006

Fee for international students

$11,006

Fee for domestic students
English

Language of instructions

$11,006

Fee for international students

$11,006

Fee for domestic students
English

Language of instructions

$11,006

Fee for international students

$11,006

Fee for domestic students
English

Language of instructions

$11,006

Fee for international students

$11,006

Fee for domestic students
English

Language of instructions

$11,006

Fee for international students

$11,006

Fee for domestic students
English

Language of instructions

$11,006

Fee for international students

$11,006

Fee for domestic students
English

Language of instructions

$11,006

Fee for international students

$11,006

Fee for domestic students
English

Language of instructions

$11,006

Fee for international students

$11,006

Fee for domestic students
English

Language of instructions

$11,006

Fee for international students

$11,006

Fee for domestic students
English

Language of instructions

$11,006

Fee for international students

$11,006

Fee for domestic students
English

Language of instructions

$11,006

Fee for international students

$11,006

Fee for domestic students
English

Language of instructions

$11,006

Fee for international students

$11,006

Fee for domestic students
English

Language of instructions

$11,006

Fee for international students

$11,006

Fee for domestic students
English

Language of instructions

$11,006

Fee for international students

$11,006

Fee for domestic students
English

Language of instructions

$11,006

Fee for international students

$11,006

Fee for domestic students
How to apply to the university
Complete admissions tasks
To apply to University of Maryland Baltimore County follow these steps. To get more information about the university and the admissions process, you can use the live chat to contact a university representative.
Required documents for admission
When applying for admission to University of Maryland Baltimore County in United States you should prepare all required documents. Request a list of necessary documents directly from a university, as it may vary for different countries. Using our live chat, you can also ask for sample documents.
Research proposal outline (MA, PhD)

Family Details

Declaration for financial support

Application fee

Health and Life Insurance

TOEFL Certificate

Motivation Letter

Letters of reccomendation (MA, PhD)

Passport

World Education Services evaluation

Online Application form

Proof of fee payment

Student visa

Photographs

Letters of reccomendation (for undergraduate)
Why people choose this university
Attractive tuition fees
Wide range of departments
Contacts
University of Maryland Baltimore County
Baltimore County 1000 Hilltop Circle
Baltimore MD 21250
United States

Free Apply is not responsible for the content of this page. Through the Site, Free Apply provides an online catalog which you can use to find different types of educational institutions. It's possible for a new university to be registered by any user, however only verified university representatives will be able to manage, reply in chat and make changes to a university page. Once the University registers its official representative, it has the right to block access for others to edit the information. Further control over the content will be carried out by the representative of the University. Registration with the Free-Apply.com catalog is free.
Other Universities on Free-Apply.com