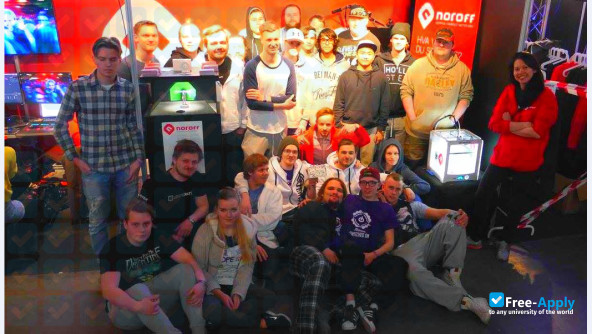 Campus moderne
Professions très rémunérées
Coopération internationale
Noroff started as a course and consultancy company in 1987. We eventually developed into a popular vocational school and college for students who are concerned with communication and digital fields of study. The focus is for Noroff to educate our students to a job market with the need for expertise in IT and digital subject areas. In the summer of 2016 a completely new campus opened in Mølleparken 4 in Oslo. Thus, we attach closer ties to professional environments and create opportunities for our students. Noroff Fagskole is a member of the Forum for Academic Schools. This is an organization where members collaborate on important factors in quality assurance. The University draws on a number of international staff to deliver educational programs. These degrees are offered both online and on campus all in English. Admission is via both direct admission and the Norwegian University admission system coordinate admission
Programmes d'éducation
Communications médiatiques

Norvégien

Langue des instructions

À temps plein

Mode d'étude

6 600 $US

Frais pour les étudiants internationaux

6 600 $US

Frais de scolarité pour les étudiants nationaux
Norvégien

Langue des instructions

À temps plein

Mode d'étude

6 600 $US

Frais pour les étudiants internationaux

6 600 $US

Frais de scolarité pour les étudiants nationaux
Norvégien

Langue des instructions

À temps plein

Mode d'étude

6 600 $US

Frais pour les étudiants internationaux

6 600 $US

Frais de scolarité pour les étudiants nationaux
Sciences et professions appliquées

Norvégien

Langue des instructions

À temps plein

Mode d'étude

6 600 $US

Frais pour les étudiants internationaux

6 600 $US

Frais de scolarité pour les étudiants nationaux
Norvégien

Langue des instructions

À temps plein

Mode d'étude

6 600 $US

Frais pour les étudiants internationaux

6 600 $US

Frais de scolarité pour les étudiants nationaux
How to apply to the university
Complete admissions tasks
To apply to Noroff University College follow these steps. To get more information about the university and the admissions process, you can use the live chat to contact a university representative.
Required documents for admission
When applying for admission to Noroff University College in Norvège you should prepare all required documents. Request a list of necessary documents directly from a university, as it may vary for different countries. Using our live chat, you can also ask for sample documents.
Motivation Letter

Application fee

Proof of fee payment

Student visa

IELTS Certificate

Declaration for financial support

Supervisor Agreement Form (PhD)

Letters of reccomendation (MA, PhD)

Resume/CV (graduate, postgraduate)

Health and Life Insurance

Online Application form

Research proposal outline (MA, PhD)

Passport

TOEFL Certificate
Why people choose this university
Campus moderne
Professions très rémunérées
Coopération internationale
Contacts
Noroff University College
Elvegata 2A
Kristiansand 4608
Norvège

Free Apply is not responsible for the content of this page. Through the Site, Free Apply provides an online catalog which you can use to find different types of educational institutions. It's possible for a new university to be registered by any user, however only verified university representatives will be able to manage, reply in chat and make changes to a university page. Once the University registers its official representative, it has the right to block access for others to edit the information. Further control over the content will be carried out by the representative of the University. Registration with the Free-Apply.com catalog is free.
Other Universities on Free-Apply.com