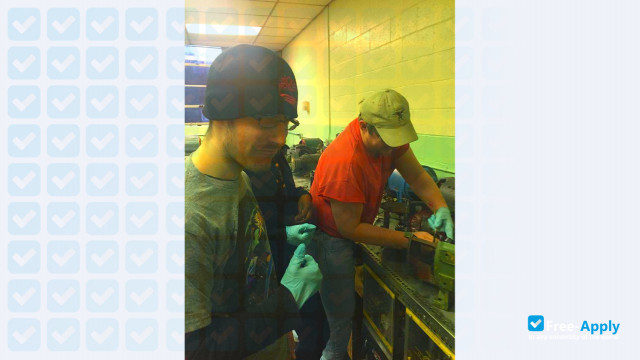 Université spécialisée
Large éventail de départements
Une université populaire
Originally located in Downtown Pittsburgh, the school moved to its present facility in 1969. Founded by the late Dr. John Renwick Dean, the school became Dean Institute of Technology at the time of the move. Dean Tech remains completely owned and operated by the Dean family. Dean Tech is a nationally accredited Trade and Technical School offering technical training which will prepare the graduate for employment opportunities. Students are required to develop a high degree of proficiency and skill in their work before they can qualify for a diploma or be eligible for the Occupational Associate Degree (AST). Our methods, procedures, individualized instruction, standard textbooks, and excellent facilities promote an efficient and progressive school. Dean Tech is proud of its high standards and the success of its graduates, and assures its students of the continued efforts to promote the efficiency of their training and welfare. Admission is granted without reference to race, religion, age, sex, or national origin, or disability (as long as such disability is not harmful to the individual or others in the workplace). We welcome qualified students, as well as faculty and staff from all racial, religious, ethnic, and socioeconomic backgrounds.
Programmes d'éducation
Ingénierie

Anglais

Langue des instructions

À temps plein

Mode d'étude

9 950 $US

Frais pour les étudiants internationaux

9 950 $US

Frais de scolarité pour les étudiants nationaux
Anglais

Langue des instructions

À temps plein

Mode d'étude

9 950 $US

Frais pour les étudiants internationaux

9 950 $US

Frais de scolarité pour les étudiants nationaux
How to apply to the university
Complete admissions tasks
To apply to Dean Institute of Technology follow these steps. To get more information about the university and the admissions process, you can use the live chat to contact a university representative.
Required documents for admission
When applying for admission to Dean Institute of Technology in États Unis you should prepare all required documents. Request a list of necessary documents directly from a university, as it may vary for different countries. Using our live chat, you can also ask for sample documents.
Declaration for financial support

Application fee

Photographs

Letters of reccomendation (for undergraduate)

Student visa

Motivation Letter

World Education Services evaluation

Family Details

Proof of fee payment

Health and Life Insurance

Letters of reccomendation (MA, PhD)

Research proposal outline (MA, PhD)

TOEFL Certificate

Passport

Online Application form
Why people choose this university
Université spécialisée
Large éventail de départements
Une université populaire
Contacts
Dean Institute of Technology
1501 W. Liberty Avenue
Pittsburgh PA 15226
États Unis

Free Apply is not responsible for the content of this page. Through the Site, Free Apply provides an online catalog which you can use to find different types of educational institutions. It's possible for a new university to be registered by any user, however only verified university representatives will be able to manage, reply in chat and make changes to a university page. Once the University registers its official representative, it has the right to block access for others to edit the information. Further control over the content will be carried out by the representative of the University. Registration with the Free-Apply.com catalog is free.
Other Universities on Free-Apply.com