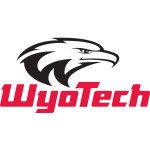 WyoTech
---
États Unis, Laramie

Founded in 1966

ID 1084002943
Our services are free of charge. Free Apply does not in any way own, manage, operate or control this university.
Les programmes comprennent une formation pratique
Communication avec des locuteurs natifs
Large éventail de départements
In the heart of the Rocky Mountains, we've built our legacy— one that's projected WyoTech as a frontrunner in the Automotive, Collision and Diesel industries. We believe you need to forge your path in this world of ours, and brand yourself proudly in whatever that path might be. That's why we wanted to re-establish a brand that represents the American dream; a brand with a backbone of hard work, respect, and integrity; a brand that honors our blue-collar individuals who don't always reap the recognition of their hard work, but keep the world spinning as we know it. We're WyoTech: A place for those who know their brand and forge their path.
Programmes d'éducation
Technologie

Anglais

Langue des instructions

À temps plein

Mode d'étude

18 048 $US

Frais pour les étudiants internationaux

18 048 $US

Frais de scolarité pour les étudiants nationaux
Attitude amicale envers les étudiants internationaux
Here at WyoTech, we do not offer admission to international students at this time. Our programs are only offered to students who are United States citizens at this time. Please check back to see if this status has changed or call us at 1-855-216-4204 or visit our website at www.wyotech.edu
Hébergement
BENEFITS OF OUR AFFORDABLE, APARTMENT-STYLE HOUSING INCLUDE: Walking distance to all your classes and shops Leases that match the length of your enrollment at WyoTech Cable, internet, and all utilities (heat, water, sewer, garbage, and general maintenance) included with rent Our apartments are organized as multi-resident suites, which means that both private and double-occupancy bedrooms share a common kitchen, living room, and bathroom.
How to apply to the university
Complete admissions tasks
To apply to WyoTech follow these steps. To get more information about the university and the admissions process, you can use the live chat to contact a university representative.
Required documents for admission
When applying for admission to WyoTech in États Unis you should prepare all required documents. Request a list of necessary documents directly from a university, as it may vary for different countries. Using our live chat, you can also ask for sample documents.
Photographs

Student visa

Declaration for financial support

Proof of fee payment

Health and Life Insurance

Research proposal outline (MA, PhD)

Online Application form

World Education Services evaluation

Letters of reccomendation (MA, PhD)

Application fee

Family Details

Passport

Motivation Letter

Letters of reccomendation (for undergraduate)

TOEFL Certificate
Why people choose this university
Les programmes comprennent une formation pratique
Communication avec des locuteurs natifs
Large éventail de départements
Contacts
WyoTech
1889 Venture Dr
Laramie WY 82070
États Unis

Free Apply is not responsible for the content of this page. Through the Site, Free Apply provides an online catalog which you can use to find different types of educational institutions. It's possible for a new university to be registered by any user, however only verified university representatives will be able to manage, reply in chat and make changes to a university page. Once the University registers its official representative, it has the right to block access for others to edit the information. Further control over the content will be carried out by the representative of the University. Registration with the Free-Apply.com catalog is free.
Other Universities on Free-Apply.com