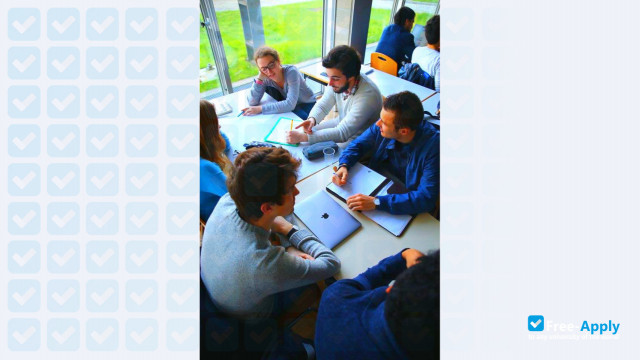 Highly paid professions
Advanced training programs
International exchange programs
6 more benefits
The École des Ponts ParisTech offers a training of general engineer of very high level. The Graduate School, which relies on the excellence of its 12 research laboratories, develops master's and doctoral programs in mechanics and civil engineering, materials sciences, nuclear engineering, mathematics, computer science, Environment, town planning, transportation, economics and sociology. Through its own subsidiaries, it also develops vocational programs that are strongly articulated with the economic sectors in the fields of initial and continuing training. It is thus an essential actor in the continuing education of senior managers in its fields of competence.
Education programs
Mathematics

English

Language of instructions

$566

Fee for international students

$566

Fee for domestic students

English

Language of instructions

$566

Fee for international students

$566

Fee for domestic students

English

Language of instructions

$566

Fee for international students

$566

Fee for domestic students
International students friendly
Support and guidance for students before their arrival at the School: email and telephone contacts to help students prepare for their stay (information on courses, residence conditions, life at the School and in France, etc.). Presentations on the School, its organization, the Campus, compulsory administrative procedures, and practical living. Evaluations of levels of spoken and written French and English. Induction to the faculty departments and definition of the study contract.
Accommodation
Between 350 and 400 students, half of them from abroad, are housed each year through the agreements between École des Ponts ParisTech and partner residences. All first and second year engineering students who want to are housed on the campus in one of the School's partner student residences. Third-year engineering students and students in other subjects have accommodation options at the Maison des Mines et des Ponts and on the campus.
Scholarships
École des Ponts ParisTech is a part of the Erasmus + program and of the "international credit mobility" framework , which supports our exchange programs with some of our partners outside Europe. Possible funding includes travel expenses and a monthly allowance of 850 euros.
How to apply to the university
Complete admissions tasks
To apply to Ecole des Ponts ParisTech follow these steps. To get more information about the university and the admissions process, you can use the live chat to contact a university representative.
Required documents for admission
When applying for admission to Ecole des Ponts ParisTech in France you should prepare all required documents. Request a list of necessary documents directly from a university, as it may vary for different countries. Using our live chat, you can also ask for sample documents.
Resume/CV (graduate, postgraduate)

Local Language Certificate

Passport

Online Application form

Proof of fee payment

Supervisor Agreement Form (PhD)

Health and Life Insurance

Student visa

Motivation Letter

Declaration for financial support

Photographs

Research proposal outline (MA, PhD)
Why people choose this university
Highly paid professions
Advanced training programs
International exchange programs
International cooperation
Located near the capital
Located in a promising city
Cooperation with prospective employers
Developed infrastructure
International education standards
Free Apply is not responsible for the content of this page. Through the Site, Free Apply provides an online catalog which you can use to find different types of educational institutions. It's possible for a new university to be registered by any user, however only verified university representatives will be able to manage, reply in chat and make changes to a university page. Once the University registers its official representative, it has the right to block access for others to edit the information. Further control over the content will be carried out by the representative of the University. Registration with the Free-Apply.com catalog is free.
Other Universities on Free-Apply.com