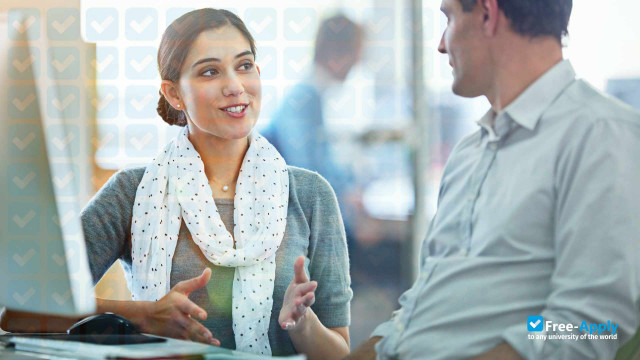 A popular university
Ability to work during training
Attractive tuition fees
7 more benefits
Why IU? With over 100,000 students from more than 153 countries, IU International University of Applied Sciences is Germany's largest university. They offer state-accredited, top-quality Bachelor, Master and MBA degree programmes taught in English – with a whole new approach. With a recommendation rate of 96%, IU's programmes are designed to provide you with flexibility in your studies. With their fully integrated digital platform and innovative learning tools, you can earn a 100% online degree that's tailored to your own schedule. For those who want to study in Germany, IU's blended on-campus programmes offer a mix of in-person tutorials and online self-study at their campuses in Berlin and Bad Honnef. You can experience life in a foreign country, explore work-study options and benefit from an 18-month post-study visa. Affordable - Enjoy discounts on online and on-campus tuition fees - Flexible payment options: Monthly instalments or pay in full, upfront - All-inclusive fees: Course materials included, no application fees Flexible - Start online right away with no fixed semester intakes - Study and take exams 100% online, at your own pace and schedule - 24/7 access to IU's digital learning materials, wherever you are Career-oriented - IU offers degrees in in-demand fields, with specialisations - Courses combine theory and practical application through real-world case studies - Learn from industry professionals who are experts in their fields
Education programs
Administration

English

Language of instructions

$2,471

Fee for international students

$2,471

Fee for domestic students
English

Language of instructions

$2,471

Fee for international students

$2,471

Fee for domestic students

English

Language of instructions

$2,471

Fee for international students

$2,471

Fee for domestic students
English

Language of instructions

$2,471

Fee for international students

$2,471

Fee for domestic students

English

Language of instructions

$2,471

Fee for international students

$2,471

Fee for domestic students
English

Language of instructions

$2,471

Fee for international students

$2,471

Fee for domestic students
English

Language of instructions

$2,471

Fee for international students

$2,471

Fee for domestic students
English

Language of instructions

$2,471

Fee for international students

$2,471

Fee for domestic students

English

Language of instructions

$2,471

Fee for international students

$2,471

Fee for domestic students

English

Language of instructions

$2,471

Fee for international students

$2,471

Fee for domestic students
English

Language of instructions

$2,471

Fee for international students

$2,471

Fee for domestic students
English

Language of instructions

$2,471

Fee for international students

$2,471

Fee for domestic students
International students friendly
Our international vision is fuelled by a digital approach and highly rated online learning. You can study comfortably at home with digital learning materials, decide for yourself when and where you want to visit a lecture online and even decide when to take your exams online. Prefer to take them in an exam hall? Even if you choose an online programme, you can take your exams in an exam hall at one of 130 Goethe Institute locations (fees apply).
Scholarships
Study at IU on your own terms. Earn an internationally accredited degree that will transform your professional life. You will get practical, career-focused education taught by experienced lecturers, gain invaluable skills for your future, and all of this with the opportunity to get a reduction on your tuition fees of 50-67%!
Additional information
Accreditations, Rankings, and Memberships. With over 20 years of experience, all of IU's degree programmes are accredited by the German Accreditation Council and the German Council of Science and Humanities. They are also enlisted in the European Quality Assurance Register for Higher Education (EQAR) and their programmes bear the FIBAA Seal of Excellence in Digital Education.
How to apply to the university
Complete admissions tasks
To apply to IU International University of Applied Sciences - Online follow these steps. To get more information about the university and the admissions process, you can use the live chat to contact a university representative.
Required documents for admission
When applying for admission to IU International University of Applied Sciences - Online in Germany you should prepare all required documents. Request a list of necessary documents directly from a university, as it may vary for different countries. Using our live chat, you can also ask for sample documents.
Proof of English skills

CV in tabular format

Certificate from your previous studies (secondary school diploma, for bachelor, or university degree, for master and MBA.)

At least 1 year of work experience before start of IU Master or MBA programmes
Why people choose this university
A popular university
Ability to work during training
Attractive tuition fees
International team
International education standards
Professional teaching staff
High scientific degree
Accredited university
Scholarship programs
Top of the best universities
Contacts
IU International University of Applied Sciences - Online
Frankfurter Allee 73a
Berlin 10247
Germany

Free Apply is not responsible for the content of this page. Through the Site, Free Apply provides an online catalog which you can use to find different types of educational institutions. It's possible for a new university to be registered by any user, however only verified university representatives will be able to manage, reply in chat and make changes to a university page. Once the University registers its official representative, it has the right to block access for others to edit the information. Further control over the content will be carried out by the representative of the University. Registration with the Free-Apply.com catalog is free.
Other Universities on Free-Apply.com