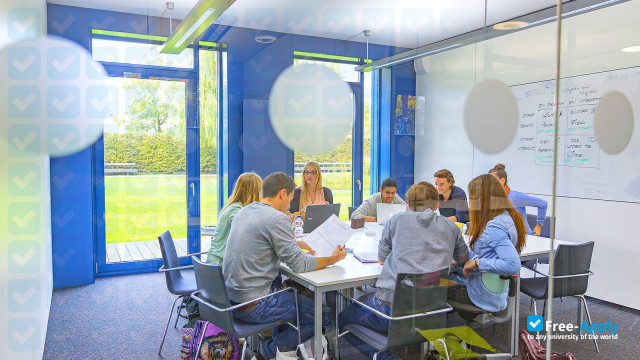 A large number of foreign students
Many years of training experience
High-quality education
SRH University Heidelberg is one of the largest and oldest private universities in Germany. About 3,400 students are currently enrolled in six faculties. Being a private university, our first priority is to promote the personal success of our students. The effective combination of theoretical knowledge and practical experience and the benefits of close cooperation between professors and students motivate our students to excellence. The safe environment within our campus and the city of Heidelberg is essential for peaceful and productive studies. Germany is politically stable and places great value on peace, order, and a fair rule of law. The rights of all citizens are respected, regardless of their cultural, ethnic or religious background.
Education programs
Arts

English

Language of instructions

$9,106

Fee for international students

$9,106

Fee for domestic students
International students friendly
The International Office will organise a Mandatory Orientation Session during your first week, providing you with some social and cultural advice and connecting you with other SRH students. And we will be there to assist you with formalities or any problems you may encounter: +49 6221 6799 799 I studyinheidelberg@srh.de
Student visa
Obtaining a visa is one of the most important first steps for prospective students from abroad. Whether you need a visa or not depends on which country you come from. Please contact the German Embassy in your home country to find out whether you need a visa to enter Germany. Be sure to apply for a student visa, and under no circumstances come to Germany on a tourist visa. You cannot study in Germany on a tourist visa, and a tourist visa cannot be converted into a student visa.
Accommodation
There are several dorms on SRH campus, furnished with a bed, mattress, desk, chair, bookshelf, and wardrobe. Some have private bathrooms and some have shared kitchens. The apartments are centrally located in a quiet neighbourhood. There is a wide range of sports activities and health services as well as shops and bus/tram stops within walking distance. The river Neckar is only a few minutes walk away, and the romantic city centre of historic Heidelberg is a mere ten minutes bike-ride.
Scholarships
We have a wide range of scholarship programmes open to all our students that provide numerous forms of assistance. Moreover, you always have the option of applying for external scholarships. Find all scholarships that are relevant to your application on our website: https://www.hochschule-heidelberg.de/en/study-at-srh/financing-your-studies/
How to apply to the university
Complete admissions tasks
To apply to SRH University Heidelberg follow these steps. To get more information about the university and the admissions process, you can use the live chat to contact a university representative.
Required documents for admission
When applying for admission to SRH University Heidelberg in Germany you should prepare all required documents. Request a list of necessary documents directly from a university, as it may vary for different countries. Using our live chat, you can also ask for sample documents.
Language Test (IELTS, TOEFL or Duolingo)

Passport Copy

CV

Motivation Letter
Why people choose this university
A large number of foreign students
Many years of training experience
High-quality education
Contacts
SRH University Heidelberg
Ludwig-Guttmann-Strasse 6
Heidelberg 69123
Germany

Free Apply is not responsible for the content of this page. Through the Site, Free Apply provides an online catalog which you can use to find different types of educational institutions. It's possible for a new university to be registered by any user, however only verified university representatives will be able to manage, reply in chat and make changes to a university page. Once the University registers its official representative, it has the right to block access for others to edit the information. Further control over the content will be carried out by the representative of the University. Registration with the Free-Apply.com catalog is free.
Other Universities on Free-Apply.com